Return to Headlines
12-7-15 — Early December 2015 Awards
Dec. 7, 2015
Santa Fe Trail Wins Champion's Award
The Santa Fe Trail Middle School FIRST Lego League team won the Champion's Award recently at the area competition qualifying them for regionals on Jan. 16 at Union Station.
They Santa Fe team placed first out of 36 teams. Their sponsors are Santa Fe teachers Josh Stock and Amy Hillman, and parent Charles Maples.
The team's project on recycling has helped the lunchroom at Santa Fe go from collecting more than 60 bags of trash a week to just seven or eight bags a week.
The Champion's Award is the most prestigious award that goes to the team who, in the big picture, is the strongest in all the categories combined. The Champion's Award winner is the total package — the embodiment of the FIRST Lego League vision.
This award celebrates the ultimate success of the FIRST mission and FLL values. It measures how these young people inspire others about the accessibility and excitement of science, technology, and engineering while demonstrating respect, encouragement, and continued gracious professionalism.
Honors Rolling in for North's Simmons
Olathe North High School senior football player Isaiah Simmons was selected to play in the Semper Fidelis All-American football game on Jan. 3 in Orange County, Calif.
The Semper Fidelis All-American Bowl brings together some of the top-rated football players in the nation and the selection process is also dedicated to choosing players based on their character, academic performance and leadership.
Simmons was selected to the Topeka Capital-Journal Top 11, a collection of the best 11 high school football players in the state of Kansas in all classes.
He was also a semifinalist for the Simone Award given to the best football player in the Kansas City metro area and a finalist for the Otis Taylor Award given to the best wide receiver in the Kansas City area. He has also already been selected to the All-Simone team.
Olathe Students Thriving at Starlight STARS of Tomorrow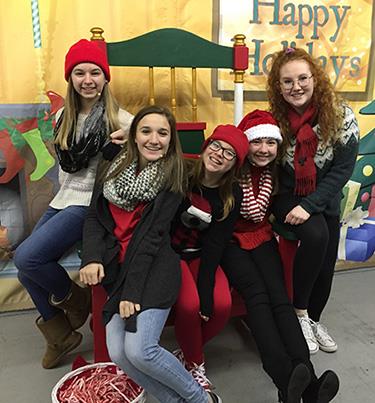 Five Olathe students are among 26 Kansas City area students who have been performing in Starlight Theatre's performance troupe, the Starlight STARS of Tomorrow, throughout its 2015 Broadway season and now in holiday performances across the city.
All five were selected for the troupe after auditioning at Starlight last spring. Throughout the summer months, they and their fellow STARS performed as pre-show entertainment on the Spotlight Stage at Starlight. After the season concluded, the STARS began to rehearse a holiday medley that they will perform at six locations between now and Christmas.
The five Olathe students are:
Melanie Eszter, sophomore, Olathe East High School — She trains at Miller Marley School of Dance and Voice. She has performed in Honk at the Theatre in the Park and in Shrek and Seven Brides for Seven Brothers at the Culture House. She is a member of the Women's Concert Choir at Olathe East and is on the golf and bowling teams.
Anna Hastings, eighth grade, Frontier Trail Middle School — She has taken dance lessons for 11 years at Miller Marley School of Dance and Voice. She has performed in several productions with the Miller Marley Youth Ballet and Theatre in the Park.
Addison Landes, seventh grade, Frontier Trail Middle School — She receives vocal instruction from Lauren Braton and dance lessons at The Pulse Performing Arts Center. She has performed in several productions of A Christmas Carol at Kansas City Repertory Theatre.
Lilly Majors, freshman, Olathe South High School — She was a member of the Allegro Children's Choir for two seasons and was a lead singer with School of Rock. At Indian Trail Middle School, she was a cheerleader and junior thespian.
Maureen Pollock, seventh grade, Indian Trail Middle School — Her theatre experience includes Christian Youth Theatre of Kansas City, and she has trained in voice and dance at the Culture House, Miller Marley School of Dance and Voice, and CYT Dance Studio.
Olathe Northwest Team Wins ACE Competition
Ten Olathe Northwest High School students were the overall winners in the Architecture, Construction and Engineering (ACE) program in the Kansas City Regional Live Design Competition at the Builder's Association Education and Training Center in North Kansas City.
The students from Olathe Northwest were the overall winner of the competition and they also took home the Iconic Architecture and Branding Award for their design and presentation of the Oak Woods Archery Complex.
The overall winner award was given to the team whose design and presentation were deemed to be the solution and concept with the greatest potential as well as the design team which demonstrated the ability to work together effectively under pressure.
The students who were on the winning team were Alex Bernhardt, Joe Claycomb, Mack Colt, Robert Foeller, Melanie Hiraki, Parker Ost, Chris Paul, Alex Schuler, Bryce Summerville and Clinton Underwood.
Olathe Northwest Places Third at Battle of the Brains
Students in the 21st Century Aerospace and Engineering program housed at Olathe Northwest High School took third place in the Burns and McDonnell Battle of the Brains competition earning $5,000 in the secondary division.
The students, who are all part of the Engineer a Better World capstone class at Olathe Northwest, were the first team from Olathe Northwest to place in the top 20 in the bi-annual competition.
Also placing in the top 20 was two-time Battle of the Brains champions, Olathe North High School and a group of students from Green Springs, Heritage and Westview elementary schools. Both teams were honorable mentions and received $2,500 each. The Olathe North group was made up of students in the 21st Century Distinguished Scholars program.
The competition gave students in the greater Kansas City area the chance to earn a combined total of $155,000 in grants by designing the next great exhibit for Science City at Union Station.
The Northwest student proposal, "Living in a Material World," focused on how the structures, properties, and applications of the four main branches of materials (metals, polymers, ceramics, and composites) are synthesized and engineered to make the world a better place.
The Olathe North entry, "Every Which Wave," focused on learning the basic characteristics of waves, how they interact and their applications to the modern world.
The Green Springs, Heritage and Westview Elementary entry "Mission to Saturn" sent visitors on a mission deep into space to compare Saturn and Earth, observe Saturn's place in our solar system and discover all about Saturn's composition, rings and moons.
Olathe Students among Shooting Star Award Finalists
The Arts Council of Johnson County (ACJC) announced that 34 students from Olathe have been nominated for the 2016 Shooting Stars Awards. The Shooting Stars Program honors Johnson County high school students for achievement in the literary, performing and visual arts through recognition and college scholarships.
"Today, Shooting Stars not only celebrates the arts but is also an acknowledgement of the role the arts play in our future workforce," said Abby Beckloff, president of the Arts Council of Johnson County Board of Directors. "Adding the arts into the 21st century skills mix means adding creativity, ingenuity, and perspective to science, technology, engineering and math careers for the future."
The 2016 Shooting Stars Program finalists from Olathe, including their nominating teachers, are:
Literature
Cory Bestwick nominated by Heather Tow, Olathe East High School
Kaitlyn O'Neal nominated by Molly Runde, Olathe North High School
Shelby Otte nominated by Vicki Kohl, Olathe South High School
Kameron Ptasnik nominated by Jessica Skoglund, Olathe Northwest High School
Photography
Sarah Gabel nominated by Carla Roberts, Olathe South
Jack Hatzfeld nominated by Hattie Gallagher, Olathe Northwest
Elizabeth Hicks nominated by Melissa Sellers, Olathe East
Reilly Zink nominated by Kathleen Bock, Olathe North
Production & Design
Kelly Edwards nominated by Dustin Pence, Olathe North
Heather Jackson nominated by Jeremy Riggs, Olathe South
Strings
Adeline Chang nominated by Cecily Noel-Mahan, Olathe North
Tanner Leon nominated by Greg Ferguson, Olathe South
Tamieka Melancon nominated by Joel Martin, Olathe Northwest
Emily Shehi nominated by Brigid Mayer, Olathe East
Theatre Performance
Alexandra Carroll nominated by Robin Murphy, Olathe Northwest
Andrea Strickler nominated by David Hastings, Olathe South
Lauren Taylor nominated by Edward Shafer, Olathe East
Samantha Walker nominated by Dustin Pence, Olathe North
Three-Dimensional Art
Ashley Bogdan nominated by Tim Barnes, Olathe Northwest
Mariah Case nominated by Jennifer Dixon-Perkins, Olathe South
Emily LaRocco nominated by Sherri Hanna, Olathe East
Melia Ortiz nominated by Hollie Rice, Olathe North
Two-Dimensional Art
Madison Bender nominated by Hollie Rice, Olathe North
Ellen Johannah Cairns nominated by Abbey Thomas, Olathe Northwest
Lauren Gawlak nominated by Jennifer Dixon-Perkins, Olathe South
Ahna Valdez nominated by Lori Ludwig, Olathe East
Voice Classical
Natalie Boos nominated by Elizabeth, Olathe South
Hannah Habiger nominated by Garrett Epp, Olathe North
Eli Huber nominated by Susan Scheibler, Olathe East
Hadley Oehlert nominated by Pamela Williamson, Olathe Northwest
Winds & Percussion
Carson Christensen nominated by Jeff Smikahl, Olathe East
Carley Eschliman nominated by Chad Coughlin, Olathe South
Sophie Solomonson nominated by Robert Davis, Olathe Northwest
Noah Zoller nominated by Justin Love, Olathe North
Since its inception, the Shooting Stars program has awarded more than $200,000 in college scholarships and almost $65,000 in teacher honorariums. At the Shooting Stars Gala on April 3, 2016, nine first-place scholarships of $1,400 each, nine second-place scholarships of $700 each and nine teacher honorariums of $350 each will be awarded.
Students are nominated by their arts teachers for this recognition. Arts teachers from schools throughout Johnson County are invited to nominate two students each year. Students who live in Johnson County but attend school outside of the county also may be nominated by their arts teachers.
Santa Fe Trail Teacher Published
Josh Stock, a sixth-grade English Language Arts teacher at Santa Fe Trail Middle School is a published author.
Stock has been published in a just-released book titled The Best Lesson Series: Literature 15, Master Teachers Share What Works.
Three Olathe Educators Honored
Olathe educators Carol Affholder, Stacy Shipley and Lanie Fasulo were awarded the Music Therapy Recognition Award for support and advocacy of music therapy at the American Music Therapy Association national conference held in Kansas City, Mo.
Affholder is the district's early childhood special services administrator. Shipley is principal at Woodland Elementary School. Fasulo is the Director of Special Services for the district.
The three were nominated by Barbara Penn, music therapist at Woodland Elementary.