Return to Headlines
12-16-15 — Noah's Bandage Project Helps a Community Heal
Dec. 16, 2015 ~ When Susan Carroll walked into her kindergarten classroom in August of 2013, she wasn't sure what to expect. The veteran teacher was in her first year at Prairie Center Elementary and was hoping to make a connection.
It happened almost immediately, right about the time she was introduced to a bright and caring young student by the name of Noah Wilson. Carroll could tell right away that Noah was special, but it wouldn't be until later that she — and everyone else — realized just how special he was.
"Everyone in that class was so kind and sweet," Carroll said. "There was a sort of peace about the classroom. Of all the years that I have been teaching, that year was just the best. And he led the way.
"It was almost as if he was preparing (and preparing us) for something."
In the spring of his kindergarten year, Noah started having back pain that got increasingly worse. Noah was soon diagnosed with Ewing Sarcoma and the tumor had attached itself to Noah's spine.
After seemingly endless hospital stays, procedures, surgeries, chemotherapy treatments, Noah seemed to be turning a corner when another form of cancer attacked his body. He was diagnosed with acute myeloid leukemia and just a few days later, in late June, he died in the arms of his loving parents, Deb and Scott Wilson.
But the story doesn't end there. Not even close.
You see, when confronted with the challenge of facing cancer head-on, that is when Noah's light shined brightest.
In the midst of the endless hospital stays and procedures, Noah decided that he'd had enough. He was tired of those plain ol' brown bandages that he was getting stuck to his skin time after time after time. Staring out into the abyss of the sterile solitude of a hospital room, Noah decided that he and — most unselfishly — countless others needed something to brighten the world of brown bandages, the loss of hair and the loss of freedom. He wanted to help others by not letting their illness take away their individuality.
"When he got a bandage, it would signify the end of a treatment," Prairie Center Principal Natalie DeWeese said. "And he wanted to have a bandage that was a heck of a lot more fun, something that put a smile on their face and let everyone else know a little bit about them — what they love and who they are."
Enter Noah's Bandage Project.
It started simple enough, but thanks to social media, it took off. Before Noah knew it, he and his family were going to the World Series last fall thanks to a tweet by former New York Yankees manager Joe Torre. Before that, some Prairie Center parents set up a Go Fund Me account for Noah and they were able to raise more than $10,000. Since Torre had heard Noah's story and came through with tickets for the whole Wilson gang, Noah decided to take the money that was raised on the Go Fund Me site and buy tickets to give to other cancer patients at Children's Mercy. A total of 26 tickets were donated.
"That's just the type of person he was," DeWeese said. "Always thinking of others."
Along the way, Noah won the heart of the Royals — especially his favorite player, Eric Hosmer. There was a bandage drive at Kauffman Stadium over the July 4 weekend this summer and since then Noah's Bandage Project has taken off.
But it wasn't easy, especially for the Wilson family.
"(After Noah died) Scott and I looked at each other and asked, 'Can we continue this?'" Deb Wilson said. "Not more than a minute or so later, the answer became clear. Our initial thought was that it would be too hard, but then we realized, no, we have to do this."
The project that was so near and dear to Noah's heart had to continue.
"It has really helped in the healing process to feel like he is with us and around everyone in the Prairie Center community," she added. "They see the bandages and think of Noah."
But the story doesn't end there.
This fall, in conjunction with Pediatric Cancer Awareness Month in September, 23 Olathe elementary schools joined Prairie Center in participating in a bandage drive.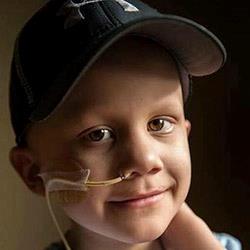 "I'm so proud that our schools and students are caring for others and supporting Noah's cause by participating in Noah's Bandage Project," said Brent Yeager, Executive Director General Administration Elementary Programs. "Caring for others in acts of kindness like this makes everyone feel valued.
In addition to Prairie Center, the 23 other Olathe elementary schools that participated in Noah's Bandage Project, helped collect nearly 7,000 boxes of bandages and close to $3,000.
"The numbers are absolutely amazing for the first time," Deb Wilson said. "There are so many causes out there, so many great ways to be involved and there are students across the community that are taking their allowance money to buy bandages to donate.
"We were amazed by the participation and extremely humbled."
DeWeese and Carroll both agree and that the connection is paramount to the healing.
"It's a way for the students to remain connected and they all associate everything that is going on with the project with Noah," Carroll said. "It was just like him to get something like this going, to be thinking about others."
So far, Noah's Bandage Project has helped collect more than 27,000 boxes of bandages.
Noah's Bandage Project has now partnered with the Shadow Buddies Foundation, a group that provides condition-specific dolls for both educational and emotional support to thousands of chronically ill patients and their families. Each of the Shadow Buddies have a backpack and in that backpack will be a box of bandages from Noah's Bandage Project.
Noah's Bandage Project provided 8,000 boxes of bandages to the Shadow Buddies Foundation.
"The idea is so simple, but rather complex in how it helps us heal," Deb Wilson said. "As a parent, I didn't get it; what a bandage means. Then you begin to look at it more deeply. A bandage can give them an identity back. It's their badge."
Noah was special, alright. The cancer didn't make him special. It's how he handled the cancer, the project that he started and how he lived his life that made him special.