Return to Headlines
9-25-23 — Bussinger Named Kansas Teacher of the Year
Sept. 25, 2023 ~ Taylor Bussinger, an eighth grade social studies teacher at Prairie Trail Middle School, was named the 2024 Kansas Teacher of the Year during the Dale Dennis Kansas Teacher of the Year Banquet in Wichita on Sept. 23. Bussinger is now in the running for the National Teacher of the Year.
"Congratulations to Taylor Bussinger, or 'Mr. Buss' as his colleagues and students call him," Superintendent Dr. Brent Yeager said. "He represents everything we want in a teacher and role model for our students. He teaches his academic content with excellence to ensure his students succeed, while also taking the time to care for his students' wellbeing so they feel valued and heard in his classroom. Taylor, we are all so proud of you here in Olathe Public Schools! Thank you for your commitment to preparing all students for their future."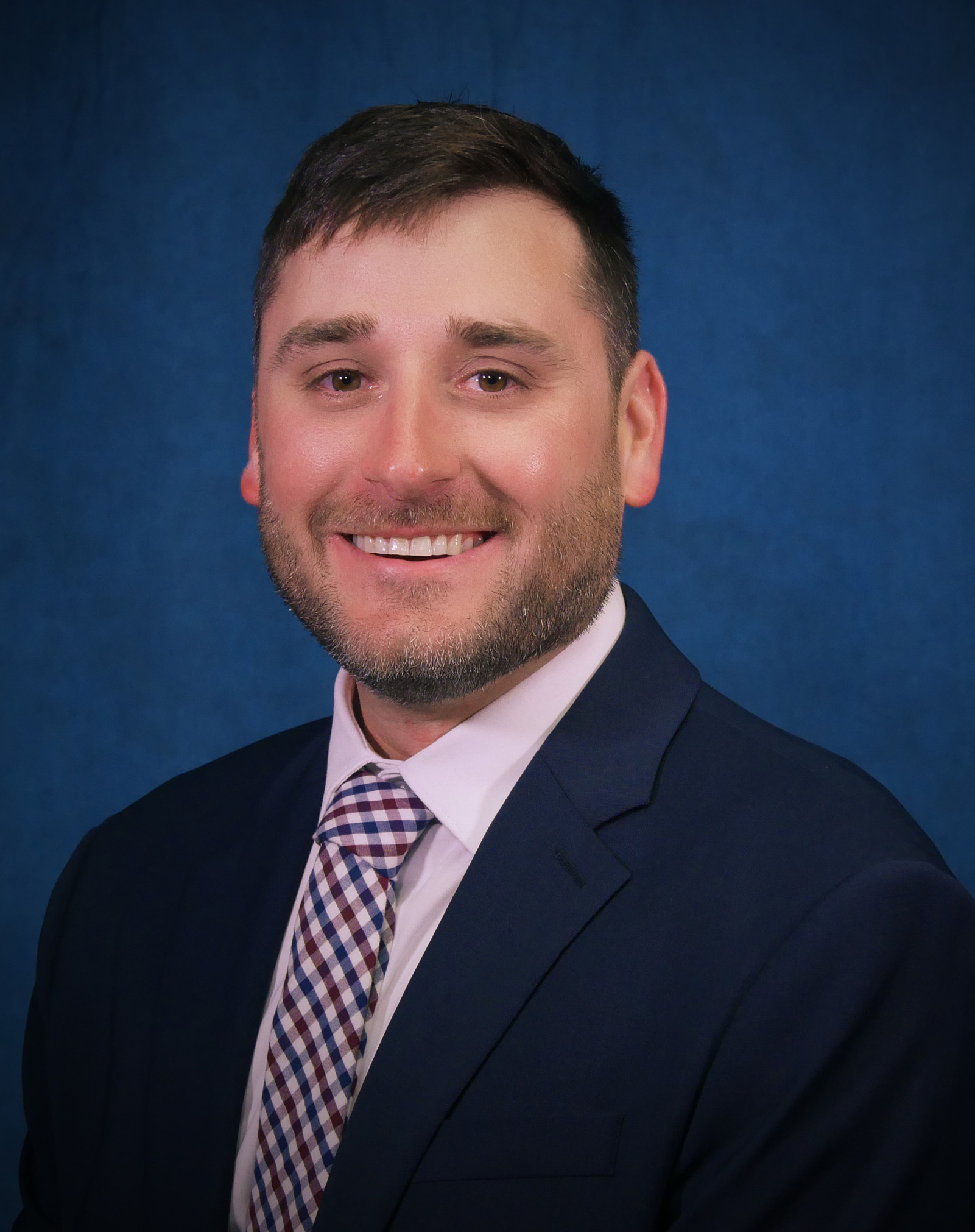 Bussinger was stunned after hearing Kansas Commissioner of Education Dr. Randy Watson and the 2023 Teacher of the Year Brian Skinner announce his name. Several Olathe Public Schools administrators and educators were present and led the standing ovation as he made his way to the stage.
"True education is authentic," Bussinger said in his speech. "It's messy. It's real. It's full of energy. It's full of laughter. It's full of tears, and it's full of vibrant passion in which young people are inspired to be curious enough to know who they truly are in the context of an ever-changing world. And young people's voices should be included in the narrative of what school should be. After all, it's their future we are preparing them for."
Ellie Willson, a former student of Bussinger, wrote a letter of recommendation for Bussinger as part of the Kansas Teacher of the Year nomination process. She praised her former teacher for creating a "classroom environment that fosters collaboration and community at an unparalleled level."
"To pull an excerpt from my graduation speech as the class of 2021 student body president: 'One of the most important lessons I have learned in chasing my dreams was taught in my eighth grade history class," Willson wrote. "Not only did this teacher challenge everything I thought I believed, but he also showed me how to see things from a different point of view. All while sponsoring somewhat civil debates between 20 13-year-olds. This class helped me to actualize my dreams by revealing to me my passion for politics and history. I cannot overstate how deserving of this honor he truly is. I speak for all of his former students when I say that he is one of the most life-changing teachers I have had the honor of learning from."
Bussinger received a Bachelor of Science degree in education with an emphasis on social studies in 2014 from University of Kansas (KU). In 2018, Bussinger earned his master's in curriculum and instruction from KU. He has taught at Prairie Trail for nine years. He currently serves as the head boys' basketball coach, head cross-country coach, a member of the Positive Behavioral Interventions and Supports team and he is the co-founder and sponsor of the Diversity Club.
"We are so grateful to have Mr. Buss on our team at PRT," Principal Dr. Jenna Jones said. "He is so deserving of this award. Mr. Buss works tirelessly every day to make a lasting impact on his students' lives through positive relationships, engaging instruction and making sure all of their voices are heard. He is a fantastic teammate, humble and always does what is best for kids. Congratulations to Taylor from his Husky family!"
As the Kansas Teacher of the Year, Bussinger will travel around the state to advocate for education and provide professional development for his fellow teachers. Bussinger was presented with a $4,000 cash award, the Kansas Teacher of the Year Lifelong Learning Scholarship to attend participating universities free of charge during his duration of teaching in Kansas, funding for travel and other expenses with the Hubbard Foundation Kansas Teacher of the Year Ambassadorship, a Jostens, Inc. Leader in Education ring and the use of a rental car from Enterprise Rent-a-Car for Kansas Teacher of the Year travel all year long.
"This weekend was a blessing to me personally and professionally," Bussinger said. "I'm incredibly honored and humbled to have accepted the Kansas Teacher of the Year award on behalf of these educators. I want to thank my family, friends, coworkers, the Olathe School District, my Prairie Trail school community, and most importantly the young people I've had the privilege to teach and learn from. My job has allowed me to figure out who I really am and for that I'm forever grateful. I'm eager to work with the 2024 KTOY team as the eight of us seek to advocate for our amazing Kansas teachers and young people."
This year, there were 124 educators across the state nominated for the prestigious award with eight finalists being chosen at the state level.
"I was inspired to learn alongside such dedicated and passionate educators from across our state," Bussinger said. "From the many district nominees to the eight finalists representing our state, these individuals are rock stars! All of them deserve recognition and honor because they are the real deal. Throughout our professional development sessions, I found myself looking around in pure amazement at just how fantastic everyone is, and I was able to make connections I'm certain will last a lifetime."
The Kansas State Department of Education appoints regional selection panels comprised of teachers, district administrators and higher education representatives to select semifinalists and finalists from each region.
"As a former history teacher, it is truly an honor to announce Taylor as the 2024 Kansas Teacher of the Year," Dr. Watson said. "He brings history alive for his students at Prairie Trail and continuously inspires curiosity in them. I want to wish Taylor and the members of the 2024 Kansas Teacher of the Year team success as they travel across the state during 2024 representing Kansas education."