Return to Headlines
12-20-16 — District Students, Staff Receive Honors
Dec. 20, 2016
Olathe East Singers Win Radio Station Contest
The Olathe East High School Madrigal Singers won $5,000 in the recent 99.7 The Point Christmas Choir Competition.
Director of Choral Activities Susan Scheibler recorded her singers performing the Pentatonix version of "Mary, Did You Know?" and submitted it to the radio station's contest in November. A panel of judges reviewed all of the entries and chose the top eight recordings to play on the air for a week. Listeners and supporters of those schools texted in their votes, which were combined with the judges' votes.
Olathe East was among the four finalists, along with Liberty North High School, Oak Park High School and Fort Osage High School, all from Missouri.
"For the final decision, the radio station sent a video team to record the final four schools performing their song live, and those videos were reviewed by the judging panel," Scheibler said. "The coordinator of the competition told me the judging was unanimous — we won! On the radio, they said the judges really liked the beat-boxing element of our recording."
Black Bob Student Wins Artwork Contest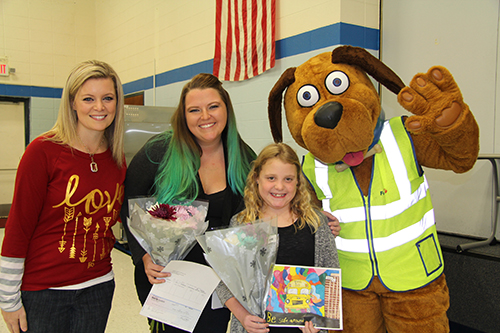 Ruth Brooks, a fourth-grader at Black Bob Elementary School, put her thoughts of riding a school bus into a drawing for a contest sponsored by First Student, the district's transportation provider. Her entry captured how "Happiness starts with yellow" and was named the winner of the contest.
The contest celebrates the experience of riding a school bus through artwork created by students in school districts across North America. Brooks' colorful artwork also includes an important reminder for students and motorists to be safe around buses.
"We enjoyed partnering with Olathe Public Schools to celebrate the lasting memories that are made on the way to and from school," said First Student Area General Manager John Billigmeier. "The yellow school bus plays an important role in the school day, and we can see just how meaningful the experience is through each student's artwork."
First Student awarded Black Bob Elementary $1,000 to be used for classroom supplies. Brooks' winning artwork will also be featured in an upcoming issue of District Administration magazine.
"Participating in the artwork contest provided our students with a great opportunity to show their appreciation for the school bus and the role it plays in their lives," said Black Bob Elementary Principal Trisha Putthoff. "We are proud of Ruth for the creativity she showed in creating the winning entry."
Photo: Black Bob Elementary Principal Trisha Putthoff and Safety Dog joined art teacher Erica North and fourth-grader Ruth Brooks after the First Student check presentation.
District Ranks Second in Statewide Analysis
The Olathe School District ranked second in Kansas as part of a national evaluation of public data, report cards and profiles for K-12 districts across the United States. The 2017 Best Schools listing by Niche ranked Olathe second in the largest districts in Kansas, second in best school districts in the state, and second in best places to teach in Kansas.
The 2017 Best School Districts rankings are based on analysis of academic and student life data from the U.S. Department of Education, test scores, and ratings from Niche website users.
Olathe's overall grade was A-plus, with no grade lower than an A-minus in the following categories: academics, culture and diversity, health and safety, parent/student surveys, teachers, resources and facilities, clubs and activities, and sports.
City of Olathe Recognizes Westview Teacher
Katie Chiaverini, English Language Learning teacher at Westview Elementary School, received the Educator Award from the Olathe Human Relations Commission and Persons with Disabilities Advisory Board during their community awards celebration.
Chiaverini was recognized because of her initiative to start a book club promoting bilingual literacy and leadership opportunities for immigrant students and families at Westview.
"Receiving this award means a lot to me because I was honored to be recognized with so many amazing people doing amazing things in our community, including a former student of mine, Litzi Bautista Figueroa, who received the Youth Award," Chiaverini said. "I believe that Olathe's diversity is truly one of its greatest assets and the awards given by the Olathe Human Relations Commission and Persons with Disabilities Advisory Board reflect their value of this growing diversity as well. Even though I was being recognized for my impact on the students and families I work with, I am the one who has learned the most from them and they have changed my life for the better!"
Siblings Perform in 'A Christmas Carol'
Two Olathe siblings are among actors in "A Christmas Carol," a Kansas City Repertory Theatre tradition for more than 35 years. Austin Borgelt, a second-grader at Sunnyside Elementary, and Kaitlyn Borgelt, a seventh-grader at Chisholm Trail Middle School, began rehearsing for the performances in late October after being selected from auditions.
"Having the correct dialect was important in their monologue audition," said their mother, Jennifer Borgelt. Both children needed a British accent and singing talent to make it through to the callbacks, where they memorized a scene and a particular character.
"This is Austin's theatre debut," Jennifer said. "He's very excited to have a title role as Ebenezer as a young boy. He's beyond thrilled."
Kaitlyn is a veteran actor, having starred in "Annie" as a first-grader. Last year she played Gretel in a middle school performance, and this fall she was in the Lyric Opera of Kansas City's "Hansel and Gretel" at the Kauffman Center for the Performing Arts. She is in the ensemble cast of "A Christmas Carol" and is a featured caroler before the show opens. Kaitlyn will have four costume changes because she is a street extra and sings in the final scene.
"It is fun that the kids get to be part of a tradition like this," Jennifer said. "The rehearsals are long and late, so we appreciate the district's flexibility for their schedules. We've seen so much support from their school communities. The teachers and administrators support the children academically and outside of school in the fine arts."
"A Christmas Carol" runs through Dec. 24 at the Spencer Theatre on the University of Missouri-Kansas City campus.
Sam's Club Bestows Grant on Washington Elementary
Washington Elementary School's PTA will be able to replace some aging playground equipment thanks to a $2,500 grant from the Sam's Club Store 8208 in Lenexa.
"We have a large piece of playground equipment with slides, bridges and stairs which has been on our playground for over 20 years," said Principal T.J. Ulmer. "Our goal is to save enough money to replace this piece."
The Sam's Club grant, combined with some district funds, will enable the school to make much-needed improvements to the playground.