Return to Headlines
11-26-19 — Students Navigate Importance of Storytelling at Writing Symposium
Nov. 26, 2019 ~ "Why is it important to hear and tell stories?"
That's a question asked in two Olathe West High School English classes during the course of the fall semester. For Olathe West teachers Reed Buckstead and Will Schowalter, in order for students to answer that question, they first needed to develop their own story and explain its significance.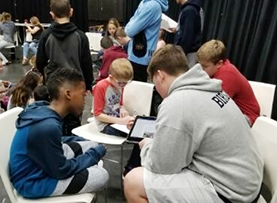 As part of a collaboration project across grade levels, Heritage Elementary fourth grade teachers Heather Moss, Jennifer Tygard and Kailyn Keplinger teamed up with the classes from Olathe West to create a Writing Symposium event that allows high school students to explain the significance of storytelling to younger students and inspire them to create and tell their own stories.
"This project started in 2017 with former Olathe West teacher Abigail Crane," Schowalter said. "One of the biggest benefits is how excited the fourth-grade students are when they finally get to meet their writing mentors."
"As the project has transformed over the past few years, we're collaborating using the Flipgrid app to connect students and discuss literacy," Keplinger said. "Students learn more about the writing process from a different perspective and continue to cultivate a love of writing regardless of grade level."
Each year the collaboration has grown and changed slightly with the end result remaining the same: a writing symposium where the high school students share stories with their elementary counterparts.
"Every student needs a mentor," said Buckstead. "We anticipate more student growth and mentorship as this program grows."
Regardless of age, students learn from one another and cultivate an appreciation of the writing process. Students have become more passionate about writing and are enthused about helping other students navigate their stories.
"Through this experience, student writers see themselves as authors," Tygard said. "Having an older peer providing guidance creates a whole new level of engagement and a positive mentor."
"The feedback from students was so incredibly positive that I was at a loss for words," Schowalter said.