Olathe West High School Homepage
Return to Headlines
11-7-23 — November 2023 Board Meeting Review
Nov. 7, 2023 ~ The Olathe Public Schools Board of Education met Nov. 2 for its regular monthly meeting. Prior to the regular meeting, the board held a public hearing regarding enrollment of non-resident students in response to HB2553 (Kansas open enrollment).
The regular meeting agenda included one recognition, four presentations and a handful of bids, contracts and agreements.
Recognition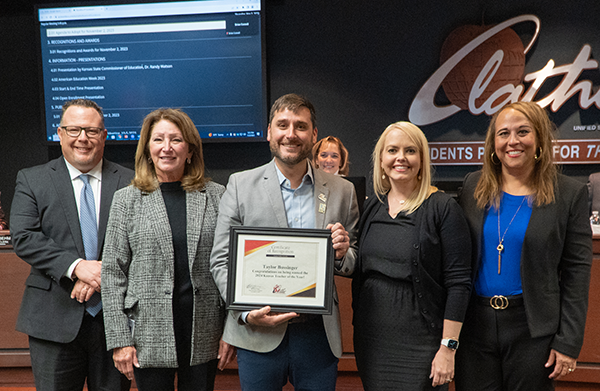 Taylor Bussinger, eighth grade social studies teacher at Prairie Trail Middle School, was chosen 2024 Kansas Teacher of the Year. Several of his students led the Pledge of Allegiance at the beginning of the board meeting. Bussinger was given the opportunity to say a few words where he thanked the district, his colleagues, families, community and in his words, "I'd most importantly like to thank my students."
Commissioner of Education
Kansas Commissioner of Education Dr. Randy Watson gave a presentation on the current focus areas of the Kansas State Department of Education and the state Board of Education. He reviewed the goals of the Kansas State Department of Education and the overall state data and mentioned the challenges facing education across the state such as chronic absenteeism. He spoke on the Kansas state assessment scores correlated to graduation and post-secondary effectiveness from the classes of 2017, 2018 and 2019. Dr. Watson presented the Kansans Can competencies. He answered the question, "What do school districts do right now, Pre-K-12?" His answers: lower chronic absenteeism immediately, move students academically out of level 1, raise the level of academic rigor and have high expectations for all students, as well as help students develop Kansan Can competency skills. Dr. Watson reflected on his drop-in at Central Elementary School, where he spent fifteen minutes in each classroom and witnessed high classroom engagement. Finally, he answered a question from the Board of Education regarding the differences between the four levels of the state assessments.
American Education Week, Nov. 13-17
Forest View Elementary School music teacher Megan Bricks shared an overview of American Education Week, a time to celebrate public education and those who make a difference in children's lives by providing a quality education. Her presentation included old photos of education in Olathe, the history of American Education Week, and a look ahead at special activities planned Nov. 13-17.
School Start and End Time Update
Deputy Superintendent of Organizational Operations Dr. Jim McMullen updated the board on the process used to recommend new start and end times for the 2024-25 school year. The topic surfaced more than a year ago when a bus driver shortage and a two-tier bell schedule led to rolling blackouts for payrider services, buses arriving late, and longer bus ride times for students at all levels. Various transportation interventions were put in place for this school year in an effort to ease the situation while more long-term solutions could be found.
This school year, parents and staff were surveyed, and students had an opportunity to share their thoughts about changing the bell schedule to allow each bus to serve two or three building levels. The start and end time study group held three workshops and involved about 175 individuals. They learned about the district's challenges and needs before working through two proposed three-tier schedules.
The three-tier bell schedule will provide service for all eligible riders, shorter bus rides, lower capacity per bus, and more potential for field trips. Having one bus serve two or three building levels means a smaller bus fleet, fewer miles, lower fuel costs, and no need to use a third-party transit vendor for some routes.
After much discussion and evaluation of feedback from parents, students and staff, the recommended bell schedule for 2024-25 is what was referred to as Option A during presentations. (High schools and Prairie Learning Center, 7:40 a.m.-2:40 p.m.; middle schools and Heartland Early Childhood Center, 8:20 a.m.-3:20 p.m.; elementary schools and Harmony Early Childhood Center, 8:55 a.m.-3:55 p.m.) Dr. McMullen said the rationale for recommending Option A included being the least disruptive to the overall system, input from secondary students, staff and parents supported Option A, a long-term solution to address the labor market, and annual financial savings.
The board will act on the start and end time recommendation during its Dec. 7 meeting.
Open Enrollment Policy Draft
Dr. McMullen's second presentation covered Kansas House Bill 2567, which applies to all public schools in the state and takes effect in the 2024-25 school year. HB 2567 states all districts must allow non-resident students to enroll in and attend any school if the district has the capacity. All Kansas school districts must adopt an open enrollment policy outlining their own procedures by Jan. 1, 2024. A public hearing was held just prior to this board meeting. The board will need to act on Olathe's open enrollment policy at its Dec. 7 regular meeting.
The proposed policy includes an in-district transfer period starting Jan. 4, followed by a district employee transfer period starting March 1. District enrollment capacity must be determined by May 1 and posted on the district website by June 1. Non-resident applications would be accepted June 1-30, followed by a non-resident lottery selection process July 1-15.
Transportation would not be provided for general education students, but special education/504 students who have transportation written in their Individualized Education Plan must be transported by the district. Once admitted to an Olathe school, the child could continue attending Olathe schools K-12 if they maintain good standing. Open enrollment transfer students would be eligible to participate in Kansas State High School Activities Association activities. The Olathe open enrollment policy is tentatively titled JBCC – Enrollment of Non-resident Students.
In other business, the board:
Approved a consent agenda including meeting minutes, financial and accounts payable reports, human resources report, high school health curriculum revision, sports psychology curriculum revision, student trips, and elimination of early childhood instructional materials and resource fees for this school year.
Approved the Microsoft Education License Agreement renewal for all district-owned devices. (capital outlay)
Approved the purchase of replacement furniture, fixtures and equipment for the Food Production Center. (Bond 2022)
Accepted trade bids for the summer 2024 heating / ventilation / air conditioning upgrade project at Olathe North High School. (Bond 2022)
Accepted trade bids for the summer 2024 roofing projects at Bentwood, Briarwood, Cedar Creek and Fairview elementary schools and Olathe North. (Bond 2022)
Accepted bids for the interior demolition and abatement work for the Lindenwood Business Center building. (Bond 2022)
Accepted proposals for Phase IV of the elementary playground equipment and surfacing upgrade at 18 locations. (Bond 2022 and capital outlay funds)
Approved the purchase of a replacement LED video wall at Olathe West High School. (capital outlay)
Received information on future action items including 2024 legislative priorities; replacements for aging custodial equipment across the district; replacements for aging scoreboards and controllers at five middle schools; bids for Santa Fe Trail Middle School educational program equipment and supplies; furniture, fixtures and equipment for the new Santa Fe Trail; replacement food serving counter for Heatherstone Elementary School; professional inspections and maintenance of the district's three variable refrigerant volume heating and cooling systems; audited financial statements; Cisco network systems annual support and maintenance; KRONOS software and hardware maintenance and support; phone system modifications; Apple devices for middle and high school theaters; online content security and impact filter; upgrade to middle school safety and security systems; virtual server machine software licensing renewal; BusinessPLUS financial and human resources management software support and maintenance renewal; on-call trade services for ice machines and pest control; graduation requirements for the class of 2028 and beyond; renewal of Destiny Follet software; revised curriculum for U.S. History; renewal of the A-Z language arts subscription database; and four student trips.
Received the Head Start director's monthly written report.
Received the monthly Bond 2022 update written report.
Held an executive session to discuss matters involving a student.
Held an executive session for the board to consult with its attorney.
The complete agenda is available by visiting the BoardDocs website.