Olathe Public Schools Homepage
Return to Headlines
5-3-21 — Early May 2021 Awards
May 3, 2021
North Senior Selected as National Good Citizen by DAR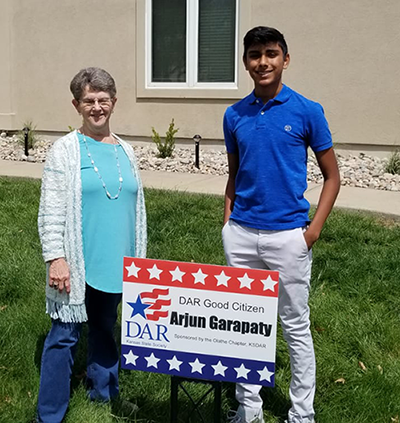 Olathe North High School senior Arjun Garapaty is the national winner of the Daughters of the American Revolution Good Citizen award and scholarship contest. The announcement will be part of the virtual National Society Daughters of the American Revolution Continental Congress June 30-July 4.
"We are honored to recognize Arjun as a national DAR Good Citizen," said state regent Susan Metzger. "He was selected from a national and international pool of more than 7,300 students. Arjun truly exemplifies the qualities of dependability, service, leadership and patriotism that are tenants of the DAR Good Citizen award."
The national award is a $5,000 scholarship and the opportunity to create and present a five-minute video for the virtual DAR Continental Congress. Garapaty will receive an engraved pewter bowl and framed certificate. Earlier this year, he was named Olathe Chapter DAR chapter winner, Kansas winner, and South-Central Division winner with cash prizes at each level.
"The Olathe North community is very proud of the work Arjun has done and we are honored to have him represent our school at the national level," said Olathe North counselor Carrie Parazin. "During his time here at North, Arjun has fully immersed himself in academics, extra-curricular activities, and community service. We know he will continue to have success in his academic pursuits and beyond."
Garapaty is involved in National Honor Society, Science Olympiad, French Club, and soccer at Olathe North. Outside of school he is a research intern and volunteer at a community non-profit where he teaches a science class to developmentally disabled adults and teens. He is interested in majoring in biochemistry, possibly paired with a sociology minor.
(Photo of Olathe DAR chapter representative Marguerite Durbin with Arjun Garapaty)
Raven Jazz Ensemble Finalist in Essentially Ellington Festival
The Olathe Northwest High School Raven Jazz I ensemble is among 15 groups nationwide chosen for the 2021 Jazz at Lincoln Center Essentially Ellington Festival. The 26th annual event will be virtual on June 4-5.
"Olathe Northwest is incredibly proud of our strong music program, and this recognizes the band's talent and diligent work through arduous circumstances," said Principal Chris Zuck.
The Essentially Ellington program strives to make Duke Ellington's music accessible to high school musicians and support their schools' music programs. Sixty-six schools nationwide submitted recordings of their performances to be judged by professional jazz educators and musicians. Each of the 15 selected ensembles will receive a workshop led by a professional musician. The three-day event includes workshops, rehearsals and performances by students from across the United States.
Olathe Northwest is only the second Kansas high school to earn the honor of being named a finalist in the Essentially Ellington Festival, according to Jazz at Lincoln Center
"In spite of such an atypical year, these band members have found new ways to reach higher. They have been persistent in spite of challenges and changes," Olathe Northwest band director Robert Davis said. "They have earned a place among the top 15 school jazz programs in the nation, and they will represent our community exceptionally well on the national stage!"
Olathe Educator Writes Book to Encourage Teachers
Teachers are known for putting others ahead of themselves, but as National Teacher Appreciation Week approaches (May 3-7) a new book by Olathe West High School English teacher Peter Mishler may help educators turn their focus inward.
Mishler's book, "For All You Do: Self-Care and Encouragement for Teachers," is a personal and candid look at his experiences from the past 13 years of teaching high school English.
"Teachers are on the frontlines of what can make our society better as well as what currently ails us," Mishler said. "I've felt the need to take care of myself to be able to do this work well. I imagined that other teachers might appreciate the same."
Available for pre-order now and in stores May 18, the book includes some best practices for situations teachers commonly encounter.
"The book is a series of reflections on my teaching experience that I hope, through their candidness, present some universal ideas that can be used for both self-care and encouragement for teachers," the author said. "I think being honest about the challenges of our profession is a powerful step for educators to take. I've learned from experience that hiding one's feelings of difficulty or frustration does not serve me or the students I teach well."
Students Prepare for National History Day Contest
Four teams of Olathe students earned the right to compete in the 2021 National History Day competition which will be held virtually in June. In order to compete in the national competition, students must have placed in the top two of the state event.
"We are so proud of the students and teachers for this amazing accomplishment," said Social Studies Coordinator Tina Ellsworth. "Special thanks to Jordan Boyd and Taylor Bussinger who afforded their students this remarkable, deep historical inquiry experience. Thank you to the administrators who supported the teachers and students in this process."
The Prairie Trail Middle School team of Sonia Parmar and Claire Sullivan earned second place in the junior group website for their "Nazi Propaganda" project. Also from Prairie Trail, the team of Izzy Rothen and Emily Bailey is an alternate for nationals in the junior group documentary for "The Seneca Falls Impact on the Communication of Women's Rights in America." Taylor Bussinger is the social studies teacher of both teams.
Olathe West High School student Emily Yan earned second place in senior historical paper for "Drawing the Point Across: Political Cartoons as Tools of Communication During the Nixon Era." Emily Harter and Kendall Starcevich, also of Olathe West, earned second place in senior group exhibit for "Communication and Civil Rights: How the Media Affected the Movement." Olathe West's Jaiden Green earned second place in senior individual exhibit for "The Telegraph Changing American Society." Jordan Boyd is their Olathe West teacher.
Olathe Northwest Receives National Recognition
Olathe Northwest High School is ranked 959 in the national rankings of the "U.S. News & World Report" Best High Schools Rankings. The 2021 rankings process involved about 18,000 public high schools nationwide. Performance on statewide tests, graduation rates, reading and math proficiency, and percentage of students taking and passing at least one advanced placement exam are all considered in the rankings.
"Olathe Northwest is honored to again be recognized by 'U.S. News & World Report'," Principal Chris Zuck said. "This is truly a reflection of a talented, committed, and hard-working group of staff and students, along with an unbelievably supportive community with high expectations."
"U.S. News & World Report" uses data from official third-party sources to evaluate high schools before ranking them in their own district, metropolitan area, state and nationwide.
Olathe Northwest ranked first among Olathe Public Schools high schools, sixth in the Kansas City metro, and fifth in the state. Its overall score in the national ranking was 94.63 on a scale of 100.
Olathe North High School ranked second in the district, 20th in the metro area, 18th in Kansas and 2,748 in the nation.
Olathe East High School ranked third in the district, 23rd in the metro area, 20th in Kansas and 2,996 in the nation.
Olathe South High School ranked fourth in Olathe, 36th in the metro area, 29th in Kansas and 4,423 in the nation.
Olathe West High School ranked fifth in Olathe, 51st in the metro, 74th in Kansas and 8,326 in the nation.