Olathe Public Schools Homepage
Return to Headlines
2-18-20 — Graduate Plays Unique Role in Super Bowl
Feb. 18, 2020 ~ As the Super Bowl had plenty of hometown connections, an Olathe graduate walked the sidelines as part of his job with the Kansas City Chiefs. Luke Thompson, a 2001 graduate of Olathe North High School, is a team doctor for the Chiefs. Thompson was a former student at Meadow Lane Elementary and Santa Fe Trail Middle School.
After having an interest in science during high school, Thompson decided to pursue medical school.
"I didn't know at the time exactly what I wanted to do, but thought I could stay active with two passions: sports and medicine," Thompson said.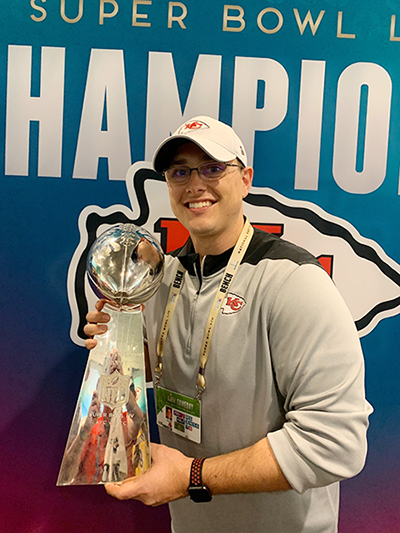 In his sixth season with the team, Thompson admits that when you have so much fun at work, it barely feels like work.
"The Super Bowl was a surreal experience," Thompson said. "The magnitude hasn't really hit me yet. This experience wouldn't be nearly as fun if I wasn't able to share it with my family and friends."
Thompson believes that working hard in the classroom prepares you for life as a career professional, regardless of what that career path you choose.
"As a high school student, the best thing you can do is always maximize your effort. You set your work ethic and trajectory in high school," said Thompson. "A well-rounded student is often more desirable down the road than someone who gets 100 percent on every test."
Regarding advice for current high school students, Thompson reflects on his own path and recalls what led him to career success.
"To be honest, I never would have had that opportunity had I not had the terrific experience that I did at Olathe North," said Thompson. "The guidance I received from teachers and coaches plays a large part of the person I am today.
"Set goals and do everything in your power to make them happen. Don't take no for an answer but also don't be afraid to alter your path as you move forward as you'll change and grow," Thompson said. "Work hard and have a balanced life. A lot will happen over the next 10-15 years of your life, be open to new experiences and opportunities."
Thompson's children attend school in Olathe and he looks forward to their educational path and what their future may hold.
(Photo of Luke Thompson holding the Super Bowl trophy)