Olathe Public Schools Homepage
Return to Headlines
1-8-20 — Teachers Named Horizon Award Winners
Jan. 8, 2020 ~ Two district teachers were honored for their work as new educators with the Kansas Horizon Award. Bennett Johnson, a music teacher from Heritage Elementary, and Samantha Collins, an English/Language Arts teacher at Chisholm Trail Middle School, each received the prestigious award.
The Kansas Horizon Awards, which are sponsored by the Kansas State Department of Education, recognize the exemplary work of teachers during their first year in the classroom. Johnson and Collins were two of 32 teachers across the state honored with the award this year. They are both now in their second year of teaching in the district.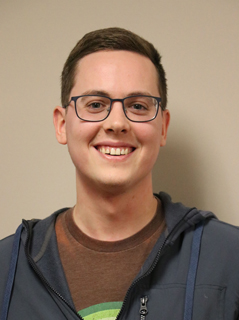 Johnson received a bachelor's degree in music education from the University of Kansas.
"The thing that I love most about teaching in Olathe is all of the opportunities the district gives young educators like myself to learn from experienced educators during professional development events and otherwise. I would be nowhere near where I am today without the help of these awesome experienced colleagues," Johnson said. "I just feel so blessed to have received this award, but I feel even more blessed to be interacting with, learning from, and loving on all students at Heritage Elementary each and every day."
His principal, Tara Payton, commended his energy and enthusiasm for teaching.
"He quickly worked to establish meaningful relationships with students, staff, and families. Bennett immediately created a welcoming, all-inclusive environment in his music room that seemed to resonate with our students," Payton said. "This welcoming environment was established because Bennett found ways to connect all students to musical interests, he engaged students in cooperative learning, and he reached students who struggled."
Collins received her bachelor's degree in journalism and initially worked in publishing before becoming a teacher. Now she teaches English/Language Arts, Yearbook and Newspaper.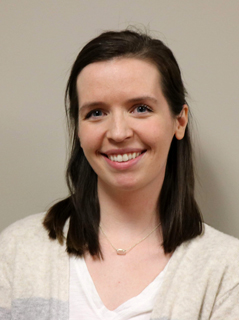 "This award gives me validation that I made the right decision to go into teaching," Collins said. "Teaching is the hardest job I have ever had. However, it's also the most rewarding, fun, and fulfilling job that I've ever had. I honestly would not have received this award if it weren't for my amazing colleagues and students. My colleagues gave me, and continue to give me, support and love for which I will be forever grateful. My students inspire, encourage and challenge me every single day to be a better educator. This award isn't only for me, but for everyone."
Collins' outstanding abilities in the classroom and her collaborative efforts to impact students were touted by Assistant Superintendent for Middle School Education Jessica Dain.
"Samantha is an outstanding educator," Dain said. "She balances multiple curricular areas and grade levels while meeting the educational needs of all her students. She works collaboratively with her colleagues and has developed an energy and creative approach to her lesson design. Chisholm Trail and the Olathe district are fortunate to have her impacting the lives of the young people she works with each and every day."