Return to Headlines
8-7-19 — Sports Med Academy Graduate to Lead Falcon Training Staff
Aug. 7, 2019 ~ The mission of Olathe Public Schools is to provide a safe, positive learning environment where all students acquire knowledge and skills to be productive citizens. Sometimes, it is a goal of those productive citizens to work in the school district and city in which they grew up.
Cooper Sax, a 2013 graduate of Olathe North High School and a member of the Sports Medicine and Exercise Science Academy, is the new athletic trainer for crosstown Olathe South High School.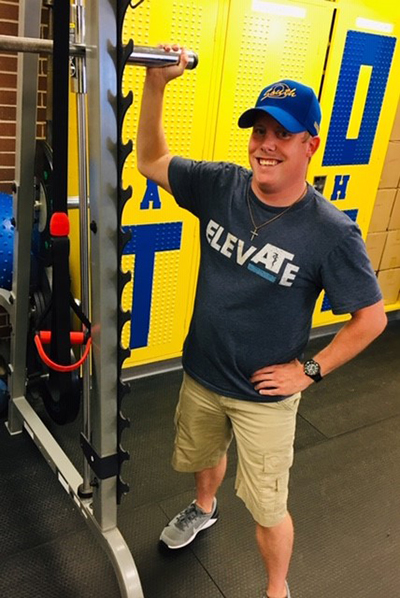 As Olathe is generally a top destination for teachers who are graduates of the district, the same could be said for Sax, as he is thrilled to return to his home district working with student athletes.
"In Olathe, I get to give back to the community that gave so much to me," said Sax. "The opportunity to show current students what the Sports Medicine and Exercise Science Academy can do for them is very exciting and makes me hopeful about the bright future for the students who decide to get all they can out of their experience."
His former mentor and teacher at Olathe North, Sarah Hanson, experienced a similar path graduating and now working for the district. The Olathe South alum has been working at Olathe North for the past 17 years.
"Cooper has taken full advantage of every educational opportunity and has climbed the ladder one rung at a time to achieve his dream of becoming a certified athletic trainer and earning his graduate degree," said Hanson. "We are so proud of all he has done and know he will accomplish more. Any athlete in his care will receive the most professional care in the most personable manner."
A highlight for students enrolled in the 21st Century Academies is the opportunity to gain industry experience through internships. Sax and Hanson are in the process of exploring student internship possibilities.
Sax received his undergraduate degree from Kansas State University before earning his graduate degree from Pittsburg State University and serving as a grad assistant for their athletic programs.
"Always keep learning and treat each person you meet with as much respect as the last," said Sax. "Take each day and treat it as a learning experience and an opportunity to better yourself as a clinician and person."
(Photo of Cooper Sax in the Olathe South weight training room)