21st Century Academies Homepage
Return to Headlines
5-28-21 — Summer Conference Inspires Employees to Lead
May 28, 2021 ~ School may be out for the summer, but learning is in full swing for Olathe employees. On May 26-28, nearly 700 Olathe employees gathered via Zoom for the district's Summer Conference, an annual professional learning event.
This year's conference was offered in a full virtual format for Olathe employees only, with a focus on leadership and school culture – an important conversation as school districts across the nation look to rebuild a sense of normalcy, trust and community following a year filled with uncertainty amid a global pandemic. The three-day conference featured keynote presentations from visionary leaders in education, Thomas C. Murray and Jimmy Casas.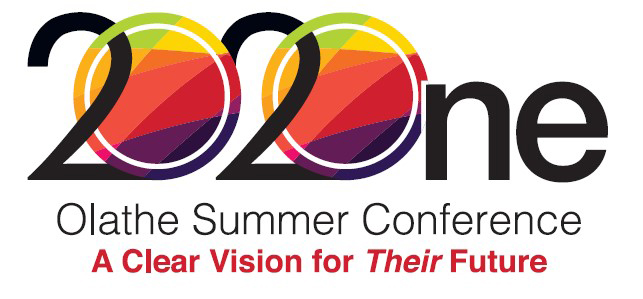 "Tom Murray and Jimmy Casas are leaders in the field of developing school culture," said Ann Addison, director of teacher induction and university partnerships. "Both Jimmy and Tom shared their own experiences as school leaders through a dynamic, motivational and inspirational workshop that will help our staff to build a culture where all students, teachers and leaders are challenged and inspired to be their best."
As former classroom educators turned pioneers in the field of educational leadership, both presenters focused on important aspects of leadership and relationships within the educational setting. Murray's session, "Personal and Authentic: Designing Learning Experiences that Last a Lifetime," challenged employees to tap into just that — being personal and authentic in all interactions to innovate and transform the work of K-12 education. Grounded in relationships and built upon a culture for learning, personal and authentic experiences respect each individual's unique journey and are learner-centered by design.
Casas' session focused on the notion of "living your excellence" by cultivating a mindset that centers on investing in students, colleagues and, most importantly, on oneself, to navigate the ever-changing world of education and truly make a difference in the lives of others. The session explored what it takes to raise expectations for all students and staff, foster the belief in one's ability to achieve, and create an environment where everyone takes pride in supporting each other toward excellence.
"Summer Conference is the place to be inspired, supported, and immersed in a community of visionary learners and leaders who strive to create an educational climate where both students and staff feel empowered to be the best version of themselves," Addison said. "This year's presenters shared inspiring stories and eye-opening strategies that pulled at the heartstrings of our Olathe team, and we cannot wait to put these new learnings to use as we prepare for the upcoming school year."
In addition to the keynote presenters, employees had the opportunity to participate in both self-paced and live sessions focusing on a wide range of topics. From instructional tools and resources to social-emotional learning and mental health to classroom management and more — there were learning opportunities available for all interests.
The Summer Conference is held following the end of each school year.