Canyon Creek Elementary Home
Return to Headlines
3-24-23 — Board of Education Vacancy, District 1, Position 1
March 24, 2023 ~ Olathe Public Schools Board of Education is seeking applications to fill a vacancy on the district's Board of Education following the resignation of longtime Olathe Public Schools Board of Education member for District 1, Position 1, LeEtta Felter.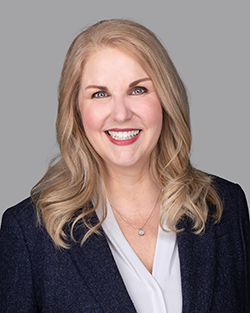 "While I will always be a fervent supporter of our incredible district, it is time for me to pass the torch and begin new adventures. This experience has been one of the great joys of my lifetime," Felter said.
In the coming weeks, the Board of Education and district leadership will work to formalize a process and timeline for patrons to apply, including an online application and special board meeting to interview candidates this spring. Applicants must be Olathe patrons residing in the Board of Education District 1. See a map of Board of Education district boundaries on the district website. The appointed board member will serve the remainder of the District 1, Position 1 term, which ends on the second Monday of January 2024.
In a statement from Superintendent Dr. Brent Yeager, he says:;
"We would like to extend a heartfelt thank you to LeEtta Felter for her 12 years of service as a member of the Board of Education. Mrs. Felter has been a longstanding advocate for public education, but more importantly, a champion for Olathe students, staff and families. Mrs. Felter was elected to the board in 2011 and during her service she was able to lead the district through three successful bond elections, the addition of one high school, one middle school, two elementary schools and several support buildings, among many other milestones. As a member of the board, Mrs. Felter was ardent in continually seeking new ways to meet the needs of students and prepare all students for their future."
The district looks forward to recognizing Felter for her service to the district at the May Board of Education meeting. For more information on the Board of Education, including boundary information and the latest updates on the application process, visit the Board of Education webpage.
---
LeEtta Felter's Letter of Resignation
Dr. Yeager and Mr. Wickliffe,
This letter represents my official notice of resignation from the Olathe School District Board of Education (BOE), effective immediately. While I will always be a fervent supporter of our incredible district, it is time for me to pass the torch and begin new adventures. This experience has been one of the great joys of my lifetime.
When I began my elected service on the BOE in 2011, the No Child Left Behind Act was federal law, Dr. Marlin Berry was our Superintendent, the 6-9 reconfiguration had just been implemented, student enrollment was 27,943 and growing annually. We still had elementary schools without classroom doors (a concept from the 70s thought to foster collaboration, but impossible to secure in a school lock-down), our very first on-line eLearning class was rolled out, the K-State Olathe Innovation Campus grand-opening occurred, and the district had 10,600 computers. What an amazing journey the past 12 years have been, working together to provide an excellent education and meet the increasingly diverse learning needs of our students.
It is no exaggeration to claim that we have one of the most supportive, collaborative, and innovative communities in the nation. Our supportive community knows that investing in our schools is wise and the return on investment is evident in the academic achievement of our students. Our average ACT score of 22.1 is well above the state and national averages. Our graduation rate is 92.4 percent and our student enrollment in Advanced Placement is high, and opportunities abound. The support of Olathe Public Schools was evident in each of the three bond elections that were held during my service on the board:
2013, $244.8 million bond (approved by 77 percent);
2016, $156 million bond (approved by 72.3 percent); and
2021, $298.3 million bond (approved by 67.73 percent*).
* In the midst of the volatile COVID-19 pandemic
These bonds have supported the purchase of future sites, construction of new schools, additions to schools, refurbishing & maintenance projects, renewing aging facility projects, safety & security projects, and technology. Thanks to a community that faithfully invests in our school district, we've added a 5th high school (Olathe West), a 10th middle school (Summit Trail), the 35th & 36th elementary schools (Millbrooke & Canyon Creek), Olathe Advanced Technology Center, Mill Creek Campus, Technology Support Center, and much more! Collaboration and innovation to meet the needs of our students are hallmarks of our strong partnerships with the Professional Council, Olathe Public Schools Foundation, City of Olathe, Olathe Police Department, Olathe Fire Department, KidsTLC, Olathe Human Relations Commission, Diversity & Engagement Partnerships, Johnson County Government, The Spot, Mayor's Children's Fund, Adopt-A-School partnerships, 21st Century Academy partnerships, Olathe Historical Society, Student Teacher Partnerships, Olathe Health, Kansas School for the Deaf, MidAmerica Nazarene University, JCCC, and the list goes on and on. Thanks to our supportive, collaborative, and innovative community, our team has the tools and talent we need to thrive, as evidenced in our recent recognition (1) by Forbes Magazine as the 12th best mid-size employer in the entire nation. The glue that binds this all together are our teachers and staff, who are second to none, caring deeply about our students and continually seeking new ways to meet their needs and prepare them for their future.
We are now on the fourth superintendent of my tenure, and Dr. Yeager, you are an amazing triumph for our board/district in that you are the manifestation of our long-time ambition to grow our own superintendent. You are uniquely qualified to lead our beloved district into the future, and I will continue to pray for you as you shoulder this heavy burden. I will always consider hiring you as the superintendent of USD 233 one of the best decisions ever. Shannon, it has been an honor to serve with you. I look forward to faithfully supporting the Olathe School District in new ways, and I'll be cheering you on all along the way! #4thekids
Most Sincerely,
LeEtta J. Felter
(1) Peachman, R. (2023). Meet America's Best Midsize Employers 2023. Forbes Magazine.