Business and Finance Homepage
Return to Headlines
5-15-20 — To the Class of 2020
May 15, 2020
To the Class of 2020,
The 2019-20 school year — your last year in high school — has come to a close. When history looks back to this graduating class, you may very well be regarded as the most resilient generation on this planet. You were born shortly after the life-altering events of 9/11 and lived through a large-scale economic recession and a global pandemic. The manner of which you have handled yourselves is remarkable and it will be to no one's surprise when this generation becomes some of the world's greatest leaders.
Ad Astra Per Aspera — To the stars through difficulty is a fitting state motto, especially for this class. The resiliency and grace exhibited by this class through difficult times is astounding.
Without much warning, you left school on March 12, without knowing that was your last physical day in school for the 2019-20 school year. With plans for spring activities and sports, prom and various other enjoyable senior traditions, there was no way of knowing those memories would be stopped before they occurred.
We all wish that this year could have ended differently and that the special moments you were looking forward to in your final weeks in high school could have continued in the way they were planned. I'm sorry that the year ended abruptly, but I want to thank you for your patience and understanding. We hope that you are able to take a moment and reflect on the adversity that has made you special. You all were born to lead. This is your moment. We are so very proud of you.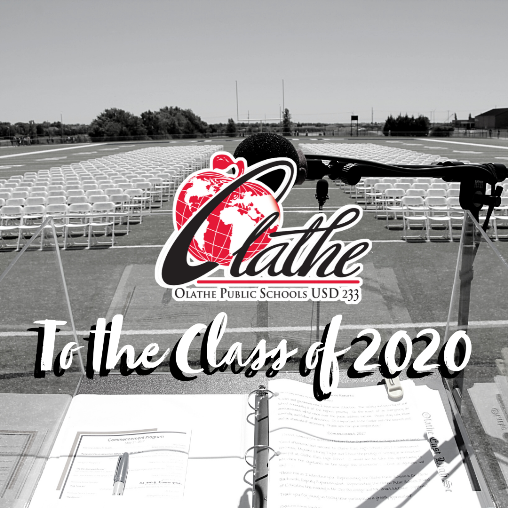 Your teachers, principals and I will forever hold this class with the most fond memories. Good luck on all of your next adventures. We look forward to celebrating your graduation in July.
With the highest regards,
Superintendent John Allison
Para la Clase del 2020,
El año escolar 2019-20, tu último año en la escuela preparatoria, ha llegado a su fin. Cuando la historia mire hacia atrás y recuerde a esta clase de graduados, podrá muy bien ser considerada como la generación más resistente de este planeta. Nacieron poco después de los eventos que cambiaron nuestras vidas, el 11 de septiembre, vivieron una recesión económica a gran escala y, una pandemia global. La forma en que se han desenvuelto es notable y nadie se sorprenderá cuando esta generación se convierta en uno con los más grandes líderes del mundo.
Ad Astra Per Aspera — "Hasta las estrellas a través de la dificultad" es un lema de estado apropiado, especialmente para esta clase. La resistencia y la gracia exhibida por esta clase a través de los tiempos difíciles es asombrosa.
Sin mucho aviso, dejaste la escuela el 12 de marzo, sin saber que era tu último día físico en la escuela para el año escolar 2019-20. Tenías planeado realizar actividades y deportes de primavera, el baile de graduación y otras tradiciones especiales para los estudiantes de último año. Pero no había forma de saber que esos recuerdos se detendrían antes de que ocurrieran.
Todos deseamos que este año hubiera terminado de manera diferente y que los momentos especiales que esperabas en tus últimas semanas en la escuela preparatoria, hubieran continuado de la manera en que fueron planeados. Lamento que el año haya terminado abruptamente, pero quiero agradecerles su paciencia y comprensión. Esperamos que puedan tomarse un momento para reflexionar sobre la adversidad que los ha hecho especiales. Todos ustedes nacieron para liderar. Este es vuestro momento. Estamos muy orgullosos de ustedes.
Sus profesores, directores y yo siempre guardaremos esta clase con los mejores recuerdos. Buena suerte en tus próximas aventuras. Esperamos celebrar tu graduación en julio.
Con los mejores deseos,
John Allison