Olathe South High School Homepage
Return to Headlines
9-25-23 — Northwest Senior Visits Washington, D.C. for Hispanic/Latino Summer Program
Sept. 25, 2023 ~ This summer, Olathe Northwest High School senior Brandon Santiago-Ramos attended "Caminos al Futuro," a fully funded nationwide summer program for pre-college students who have a high level of academic achievement and a demonstrated commitment to service and leadership within the Hispanic/Latino community.
Located at The George Washington University in Washington, D.C., Caminos al Futuro is an immersive learning experience where scholars examine the social, economic and political transformations affecting the Hispanic/Latino community in a college-like environment. Participants get to see policymaking in action with visits to Congress, government agencies and leaders in non-profits as well as lectures from university professors and national Hispanic/Latino leaders.
Santiago-Ramos said that days were like what he imagined college was like, where students wake up, eat breakfast, go to class and then spend their evenings playing soccer, listening to music and exploring the city. He was able to see the White House, tour the Pentagon and even catch a show at the Kennedy Center.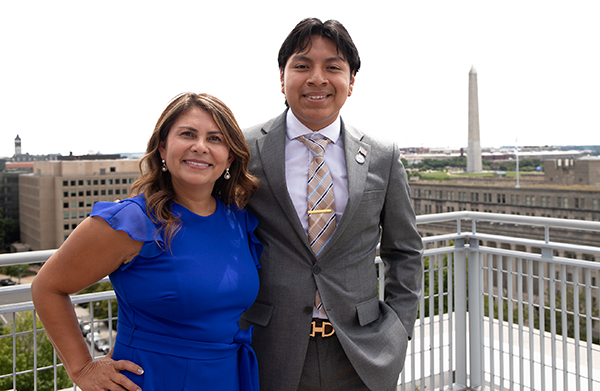 "It was a very fun experience," Santiago-Ramos said. "I loved being able to connect with a group of Latino kids from around the nation and be able to bounce ideas off each other."
Each student was allowed to bring one adult member or mentor with them for the final presentation and closing ceremony of the program. Santiago-Ramos invited Elizabeth Janzen, his Spanish teacher and Hispanic Leadership Club sponsor at Olathe Northwest.
"It was a wonderful experience because I was one of the only mentors there because the rest were parents," Janzen said. "It was a privilege that Brandon invited me and to be able to see him present his community project with self-confidence in both Spanish and English. It was very impressive."
Time in the classroom was spent with university professors and Hispanic/Latino leaders, identifying issues related to Hispanics/Latinos in their home communities and developing Community Action Projects to address them. Students were encouraged to leverage their own cultural competence and think about how to uniquely address the needs of their community.
"The program does a really good job giving you different Latino experiences, not just in politics but with Latinos in every workspace," Santiago-Ramos said. "I feel like it really showed the students that Latinos are everywhere, and you can accomplish anything."
Each participant created a project that each could implement in their own city and Hispanic/Latino community. Santiago-Ramos created a project based on one of his passions — soccer.
"My project is a soccer tournament where anybody can come play, and hopefully it's going to be sponsored by our community," Santiago-Ramos said. "My goal is for all Olathe businesses – Latino or not – to come in along with high schools and college admissions officers to give information to Latino families and show them there are opportunities out there."
Along with soccer, Santiago-Ramos participates in the 21st Century Engineering Academy, Hispanic Leadership Club and Teen Council. Janzen had just met Santiago-Ramos last year, but she said his passion for his community is obvious.
"I knew he would be a great candidate for Caminos al Futuro. He has always been passionate about what he does, prepared in class, asking questions and trying to do things better, not just for himself but for the community too," Janzen said. "One of the goals is that through this experience, he can generate support from the community to implement his soccer project, so more students and their families can be informed and take advantage of the variety of opportunities that Olathe Public Schools have like the 21st Century programs, Olathe Advanced Technical Center, etc. All of us have a part in helping our students be successful to achieve their dreams."
After high school, Santiago-Ramos hopes to attend the University of Michigan, where he plans to major in engineering. For now, he is just grateful to have had the opportunity to work with great mentors and to have the chance to make an impact in the community. However, "Caminos al Futuro" encouraged him to seek out different possibilities in majors and schools. GW is a very viable option for Santiago-Ramos because of his sister, Brenda, who is set to graduate from there this year.
"I know that there's more out there for me and others in our community," Santiago-Ramos said. "¡Sí se puede!"
#OPSMyFuture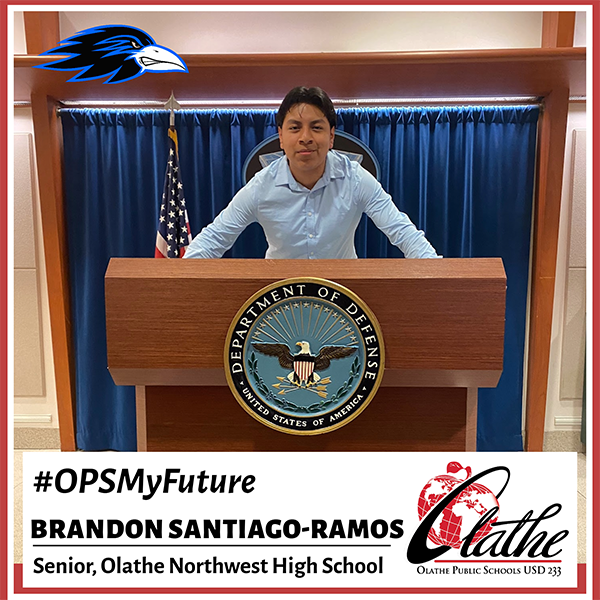 ---
Un estudiante de último año de Olathe Northwest visita Washington D.C. para participar en un programa Latino de verano
Este verano, Brandon Santiago-Ramos, estudiante de último grado de Olathe Northwest High School, asistió a "Caminos al Futuro", un programa de verano patrocinado a nivel nacional para estudiantes preuniversitarios con un alto nivel académico y demostrado compromiso con el servicio y el liderazgo dentro de la comunidad hispana/latina.
Situado en la Universidad George Washington de Washington, D.C., Caminos al Futuro es una experiencia de aprendizaje inmersiva en la que los académicos exploran las transformaciones sociales, económicas y políticas que afectan a la comunidad hispana/latina en un entorno similar al universitario. Los participantes pueden ver la práctica política con visitas al Congreso, agencias gubernamentales y líderes de organizaciones sin fines de lucro, así como conferencias de profesores universitarios y líderes nacionales Hispanos / Latinos.
Santiago-Ramos dijo que los días fueron como imaginaba que era la universidad, donde los estudiantes se levantan, desayunan, van a clase y luego pasan las tardes jugando al fútbol, escuchando música y explorando la ciudad. Pudo ver la Casa Blanca, visitar el Pentágono e incluso asistir a un espectáculo en el Kennedy Center.
A cada estudiante se le permitió traer consigo a un miembro adulto o mentor para la presentación final y la ceremonia de clausura del programa. Santiago-Ramos invitó a Elizabeth Janzen, su profesora de español y patrocinadora del Club de Liderazgo Hispano en Olathe Northwest.
"Fue una experiencia maravillosa porque yo era uno de los pocos mentores presentes, ya que el resto eran padres", dijo Janzen. "Fue un privilegio que Brandon me invitara y verlo presentar su proyecto comunitario con seguridad en sí mismo tanto en español como en inglés. Fue muy impresionante."
Pasaron tiempo en el salón de clases con profesores universitarios y líderes Hispanos/Latinos, identificando problemas relacionados con los Hispanos/Latinos en sus comunidades de origen y desarrollando Proyectos de Acción Comunitaria para abordarlos. Se animó a los estudiantes a aprovechar su propia competencia cultural y a pensar en cómo hacer frente de forma individual a las necesidades de su comunidad.
"El programa hace un trabajo realmente bueno dándote diferentes experiencias Latinas, no sólo en política sino con Latinos en cada espacio de trabajo", dijo Santiago-Ramos. "Siento que realmente mostró a los estudiantes que los Latinos están en todas partes, y que se puede lograr cualquier cosa."
Cada participante creó un proyecto que podría poner en práctica en su propia ciudad y comunidad Hispana/Latina. Santiago-Ramos creó un proyecto basado en una de sus pasiones: el fútbol.
"Mi proyecto es un torneo de fútbol donde cualquiera pueda venir a jugar, y espero que sea patrocinado por nuestra comunidad", dijo Santiago-Ramos. "Mi meta es que todos los negocios de Olathe - Latinos o no - vengan junto con las escuelas preparatorias y los representantes de admisiones universitarias para dar información a las familias Latinas y mostrarles que hay oportunidades allá afuera."
Además de jugar al fútbol, Santiago-Ramos participa en la Academia de Ingeniería Siglo 21, en el Club de Liderazgo Hispano y en el Consejo de Adolescentes. Janzen conoció a Santiago-Ramos el año pasado, pero dijo que la pasión por su comunidad es obvia.
"Sabía que sería un gran candidato para Caminos al Futuro. Siempre ha sido un apasionado de lo que hace, preparado en clase, haciendo preguntas y tratando de hacer las cosas mejor, no sólo para sí mismo sino también para la comunidad", dijo Janzen. "Una de las metas es que, a través de esta experiencia, él pueda generar apoyo de la comunidad para implementar su proyecto de fútbol, para que más estudiantes y sus familias puedan estar informados y aprovechar la variedad de oportunidades que tienen las Escuelas Públicas de Olathe como los programas del Siglo 21, el Centro Técnico Avanzado de Olathe, etc. Todos podemos contribuir a que nuestros estudiantes tengan éxito y alcancen sus sueños."
Después de la preparatoria, Santiago-Ramos planea estudiar ingeniería en la Universidad de Michigan. Por ahora, sólo está agradecido de haber tenido la oportunidad de trabajar con grandes mentores y de tener la oportunidad de tener un impacto en la comunidad. Sin embargo, "Caminos al Futuro" le animó a buscar diferentes posibilidades en carreras y escuelas. GW es una opción muy viable para Santiago-Ramos debido a que su hermana, Brenda, se graduará allí este año.
"Sé que hay más para mí y para los demás en nuestra comunidad", dijo Santiago-Ramos. "¡Sí se puede!"