Olathe South High School Homepage
Return to Headlines
8-21-23 — Olathe North Student Becomes Published Author
Aug. 21, 2023 ~ This year Brittney Wright, a junior at Olathe North High School, became a published author for her book of poems titled "Words I Thought." Wright shares her voice through poems that dive into topics on mental health, and she hopes that everyone who reads it can feel like their voice is in it too.
"It's about mental health, growing up and figuring out who you are in the world and finding your place," Wright said. "It kind of started because I was just writing, and then I was showing people and they're like, 'these are really good'."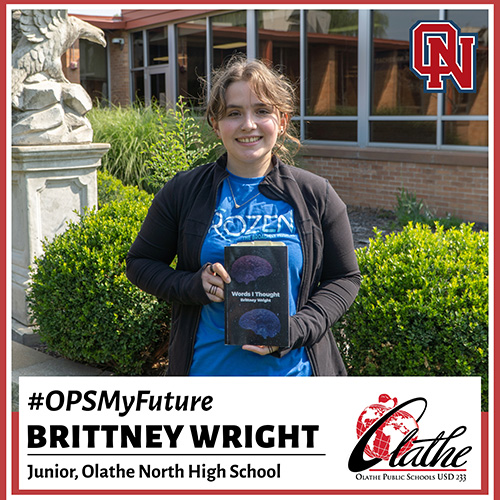 Wright was at Olathe East High School before transferring to Olathe North, and she said it was a teacher at East who helped her realize she can really make this happen.
"My teacher, she was my freshman honors English teacher, and she was like some of you are better than my seniors, you can be published," Wright said. "And she looked directly at me."
Wright had already laid a foundation for a book with the number of poems she'd written. It was just a matter of putting them in a certain order and making it flow. She had done research and read other stories about different topics on mental health. Through her research, she discovered that it is common to have multiple mental health experiences and that everyone's experience is different, so she didn't want to focus on just one topic.
"I worked on writing about depression and anxiety...But then I worked a lot on writing about OCD, eating disorders, body image and other topics," Wright said. "I wanted to make everyone feel like they had a voice in it."
Once she had pieced her writing together, Wright reached out to five to 10 publishing companies before landing on Dorrance Publishing Company, based in Pittsburgh, Pennsylvania. They did all the page design and worked with her based on what she envisioned. For two to four months, they went through the proofing and editing process and in February, Wright submitted her book. In March, right before her birthday, she received the first copy of her published book.
At the end of last school year, Wright had the opportunity to visit Pioneer Trail Middle School to read age-appropriate snippets of her book to students. She said it was an amazing experience, and the kids were happy to get a visit from a published author within their own district.
"The kids loved it, and their faces were just so shocked," Wright said. "They were surprised at how young I was, and some of them still come up to me and are like, 'Oh, you came to my school, right?'"
Wright said the support from her schools and the opportunities Olathe Public Schools provided really helped her achieve this goal.
"They would always say you can do whatever you want to do, and there are a lot of things you can do," Wright said. "My English teachers, for instance, they would step out and talk to you and really work with you outside of class if you wanted."
After high school, Wright plans to attend college and wants to major in biology and then attend veterinary school. She says she still wants to write on the side, and maybe publish a few more books. In fact, she is currently working on her second book, "What am I Supposed to Say Now?" which has already been signed with a publisher.
"Words I Thought" has not yet been released to the public but will soon. Wright is in the process of setting up a book signing for it at Barnes and Noble. She hopes those who read it can gain something from it.
"I want others to realize that it's okay to feel this way," Wright said. "Everyone goes through something, so I hope they gain knowledge."
#OPSMyFuture