Olathe South High School Homepage
Return to Headlines
1-13-22 — BioMedical Engineering Students Conduct EEG Research
Jan. 13, 2022 ~ Tej Maheshwari, Olathe South senior, was interested in the brain from both his BioMedical Engineering Academy and Advanced Placement Psychology class. Partnering with fellow senior Maggie Ridgway, they decided to study the brain's ability to focus.
The duo secured an electroencephalogram (EEG) device, which detects electrical activity in the brain. To operate the device, Maheshwari and Ridgway learned how to code, read the data, and figure out how to conduct experiments using a baseline that will lead them to their final research project next semester. Typically, these types of projects, devices, and research would be done in a college setting.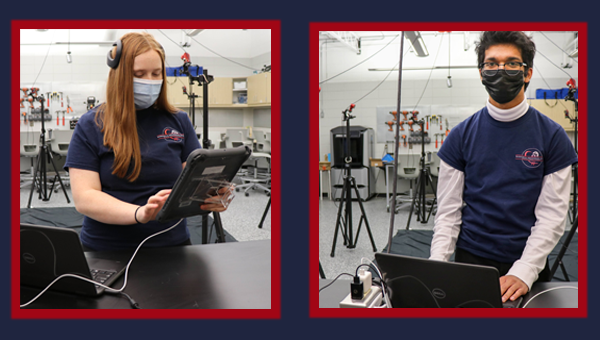 "I believe that it is important for students to try out a career pathway in high school because it allows you to test out career fields that you think you may like without the stress of paying for classes," Ridgway said. "They may discover a career or career field that they want to pursue before setting foot on a college campus."
Maheshwari networked at the BioMedical Engineering advisory council meeting where a community professional connected the pair with a graduate student who is currently utilizing similar EEG devices in their research. Maheshwari and Ridgway are now meeting with him regularly in hopes of gleaning knowledge from a mentor on EEGs and other research techniques.
"Very few students my age can say they have hands-on experience working with EEG technology. I hope the skills I gain in coding, data analysis, and project management along with the knowledge I gain in engineering and medical science can all advance me," Maheshwari said. "Knowing I'm about to graduate high school and move on to college, I am excited to use everything I learn from this project to achieve future success."
Everything we do in Olathe Public Schools is to prepare our students for their future – wherever that may lead them as they leave our halls and enter the workforce, technical school, or college. Maheshwari and Ridgway are looking forward armed with the knowledge they have learned, with the hopes that their #OPSMyFuture is bright.
(Left photo: Senior Maggie Ridgway wears the EEG device and reflects on the raw data coming from her brainwaves. Right photo: Senior Tej Maheshwari poses for the camera while coding the EEG device to provide the results he wants to record.)