Olathe South High School Homepage
Return to Headlines
6-9-20 — Mid June 2020 Awards
June 9, 2020
Students Named Shooting Stars Scholarship Winners
The Arts Council of Johnson County (ACJC) awarded scholarships to Olathe seniors and recognized the numerous finalists nominated for the 2019-20 Shooting Stars Awards. The Shooting Stars program honors Johnson County high school students for achievement in nine categories of literacy, performing and visual arts. Nine $1,400 first-place scholarships and nine $700 second-place scholarships were awarded to recognize excellence in each category of art. Three Olathe students received scholarships.
Elizabeth Yost, Olathe East High School, received second place in the literature category.
Nicole Brinkley, Olathe North High School, received second place in the photography category.
Jade Almsberger, Olathe North, received first place in the production & design category.
Olathe West Soccer Player Named Kansas Gatorade Player of the Year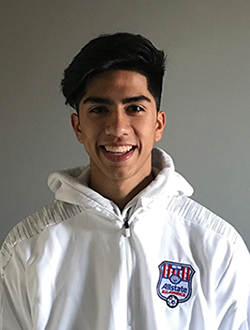 Jony Munoz, 2020 graduate of Olathe West High School, was named the 2019-20 Gatorade Kansas Boys Soccer Player of the Year. Munoz is the first student athlete from Olathe West to earn this distinguished award.
"Jony exemplifies everything that is right about high school athletics," Olathe West Principal Jay Novacek said. "He is an extremely talented athlete but chose to jump in, get involved, and build an incredible high school experience. Jony is the epitome of a scholar-athlete in the classroom and has the highest of character and integrity. I cannot think of a better representative of this award than Jony."
(Photo of Jony Munoz)
Olathe Principal Earns National Recognition
Kaleb Stoppel, Olathe East High School assistant principal and athletic director, was recently recognized by the National Interscholastic Athletic Administrators Association (NIAAA) as a Certified Master Athletic Administrator.
"Dr. Stoppel earned a distinction that no other Olathe athletic director has ever attained by becoming a Certified Master Athletic Administrator," Olathe Public Schools Director of Athletics and Activities Tim Brady said. "Dr. Stoppel greatly values ongoing professional development in his field. Through the NIAAA Leadership Training Institute, he successfully completed a plethora of courses and finished a major project."