Early Childhood Programs Homepage
Return to Headlines
6-14-22 — Northwest Grad has Eye for Design
June 14, 2022 ~ Olathe Northwest High School 2022 graduate Janine Fuhrman first discovered her passion for art in the hallways of Woodland Elementary School and Santa Fe Trail Middle School. She went on to a part of the e-Communication Academy (or "family" in Fuhrman's words), specializing in Graphic Design.
However, Fuhrman found out she could do what she loved for a living when Graphic Design facilitator Jennifer Zimmerli encouraged her to intern with the Olathe Public Schools Graphics Communications department under the leadership of manager Erica Derrington.
"I had no idea what I wanted to do after high school and I didn't think I wanted to do more school but doing the graphic design classes and internship completely changed my mind," Fuhrman said.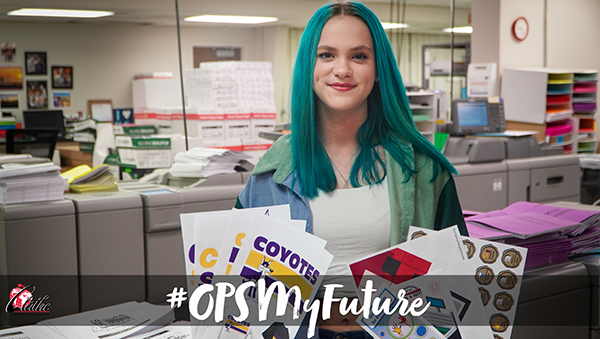 Fuhrman worked closely with graphic designers Curt Fehr and Melissa Beaudoin and impressed them with an eye for design and market value skills.
"Janine has been such a delight to work with this semester. She's really become part of our design team and has experienced great growth in her office and design skills," Derrington said. "We've given her opportunities to work directly with customers on projects and watch the print process to complete their requests. She is insightful, observant and will be missed. We wish her the best of luck!"
Fuhrman loved her mornings in the Graphics department, where learning came to life. Her favorite projects included elementary musical programs, yard signs, district program planning guides, district calendar designs, and banners that hung in elementary school hallways welcoming new kindergartners.
"In class and my internship, I got so much more hands-on learning that actually affects real-life clients," Fuhrman said. "I was working directly with clients on their vision and on their deadline. It must be perfect and to their liking. I loved the challenge of that, and it was the first time I looked up and realized I could really do this."
In May, her hard work paid off when she was named a CTE Scholar, awarding her a full-ride scholarship to Johnson County Community College for two years, which covers tuition and books. Fuhrman was encouraged by Zimmerli to apply.
"Ms. Zimmerli has impacted my life so much. You can talk to her like she's a mom and she'll help you and encourage you not to give up," Fuhrman said. "Erica was looking out for me too. She also told me about a $1,000 scholarship at the Olathe Optimist's Club and I ended up winning that too. I'll be able to attend junior college for free because of these two women who believed in me."
Since she could pick up a crayon, Fuhrman has loved the opportunity to be creative. Now, because of her talent and support from Olathe Public Schools staff members, Fuhrman is more confident in her #OPSMyFuture.
(Photo: Fuhrman holds some of the project she completed for the OPS staff.)