Early Childhood Programs Homepage
Return to Headlines
5-27-22 — Graduate Wants to Give Back to Community
May 27, 2022 ~ Senior Tyson Smith joined Olathe East High School during his junior year. Getting back into school after a year of virtual learning in his former district, Smith was encouraged by his teachers to get involved. Smith took that to heart.
"Coming to Olathe opened up so many opportunities that I didn't really have at my old school, and I never really wanted to do," Smith said. "But the teachers here are so supportive, and I've made friends through getting involved… I kept hearing my teachers say, 'Why not go for it?'"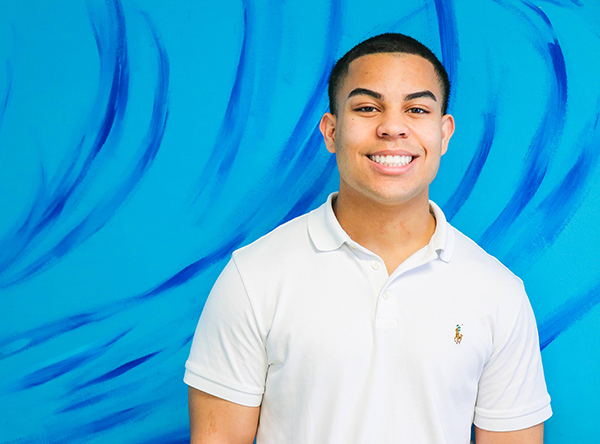 Go for it, indeed. Smith participates in Young Allies Club, Hawk Leaders, Superintendent's Student Advisory Council (SSAC), theatre and KAY club. As a Hawk Leader, Smith mentors freshmen by helping connect them to opportunities that may interest them at Olathe East. He quickly moved to be on the Hawk Leaders Executive Council, which led him to the SSAC, where he acts as an advocate for the teachers and students of Olathe East to district administration.
"I love SSAC. We not only get to express our thoughts and concerns to the superintendent, but I've got the chance to meet students from other schools," Smith said. "We are all different and have different perspectives, but we are still all just teenagers. We are going through same things. When I'm there, I've realized I'm not alone – we are all not alone. It's so great to see that the upper administration really cares and gives us a voice when they could just ignore us students."
Smith has taken his advocacy position seriously, attending district events to better understand how the Olathe Public Schools works.
"I truly want to be educated and have the correct knowledge of our district," Smith said. "I like to be involved and I care about the future of the Olathe Public Schools. I have two younger sisters that go here so the stuff happening now will affect them later. I want them to have just as great of an experience as I have had."
Smith's experiences have led him to figure out exactly what he wants for his #OPSMyFuture.
"I have learned so much about myself coming here. Being able to volunteer to mentor freshmen and help out in the community, I've learned how much I love to serve," Smith said. "That's why I'm headed to the National Guard. I like serving the school district, I like serving Olathe, why not serve the state of Kansas? They've given so much to me – why not give back?"
After graduation, he is headed to Fort Jackson for training. After serving in the National Guard, he plans to attend Kansas State University to major in business and Washburn University to get his law degree.
"I'm just trying to hit my goals. I'm the most excited to see what I can change about the world. There are so many things happening now that I don't want for my kids, so I can't wait to change the world or at least my world," Smith said.