Early Childhood Programs Homepage
Return to Headlines
5-3-22 — Millbrooke Named a Leader in Me Lighthouse School
May 3, 2022 ~ Millbrooke Elementary has been named a Leader in Me Lighthouse School by Franklin Covey Co. The Lighthouse certification is a highly regarded standard and recognizes schools that have achieved outstanding results and student outcomes by implementing The Leader in Me process. Millbrooke joins fellow Olathe elementary schools Brougham Elementary, who earned this certification in 2021, and Forest View Elementary, who earned this certification in 2017. They are three of the only five schools in the state of Kansas currently recognized with this honor.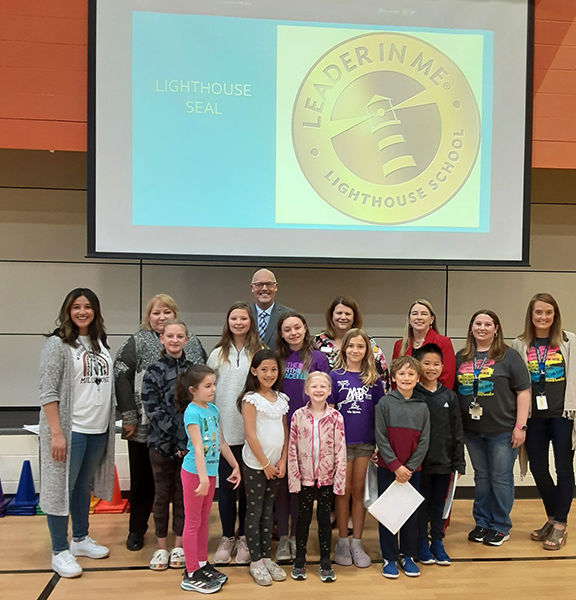 The Leader in Me is a whole-school transformation model — developed in partnership with educators — that empowers students with the leadership and life skills they need to thrive in the 21st century. It is based on secular principles and practices of personal, interpersonal, and organizational effectiveness.
"We are thrilled to celebrate Millbrooke Elementary as a Leader in Me Lighthouse Certified School," said Dr. Brent Yeager, superintendent. "Leader in Me schools serve as a shining example to schools throughout the nation by redefining leadership, teaching life skills and creating a culture of empowerment where all are engaged in leadership practices from the students all the way to the staff. We are so proud to have Millbrooke join an esteemed group of educators who are committed to learning and growing together as a community."
The Leader in Me framework provides a unique approach to integrating highly effective practices throughout a school's culture. Instead of focusing on academic measures alone, Leader in Me embodies a holistic approach to education, redefining how schools measure success. This approach empowers educators with effective practices and tools to teach leadership to every student, create a culture of student empowerment and align systems to drive results in academics.
"I want to thank our extremely talented, loving, and dedicated staff family for embracing this leadership journey over the past five-plus years," said Stephanie Dancso, Millbrooke Elementary principal. "Thank you to our parents for partnering with us to empower our students to live our mission, and, of course, we want to thank our students for sharing their undeniable genius with us every day. Finally, a huge thank you to the entire Millbrooke community, our PTO, the Olathe Public Schools Foundation, and Olathe Public Schools for investing in the Leader in Me program that provides us the tools and framework we need to instill 21st century skills within our students so they will be life-ready leaders in our community."
(Photo: Millbrooke Elementary Principal Stephanie Dancso and Dr. Tim Reves, assistant superintendent for elementary education, joined staff and students to celebrate the Lighthouse School honor.)