Olathe Northwest High School Homepage
Return to Headlines
5-5-22 — North Student Headed to International Science, Engineering Fair
May 5, 2022 ~ Senior Logan Honors believes the reason he is still interested in science today is because of the teachers he's had throughout his 12 years at Walnut Grove Elementary School, Pioneer Trail Middle School, and Olathe North High School.
"I have always had excellent math and science teachers who have helped keep the subjects interesting in new and different ways," Honors said. "Good teachers are so important. The past few years, Ms. Clement and Ms. Reist have continued to keep me interested in science so much so that I am pursuing it in college."
Honors is a member of the Distinguished Scholars Academy where he chose to focus on the science content area. This academy is made up of academically high-achieving students who immerse themselves in rigorous, non-traditional course work in either science, language arts, math, political science, or visual arts.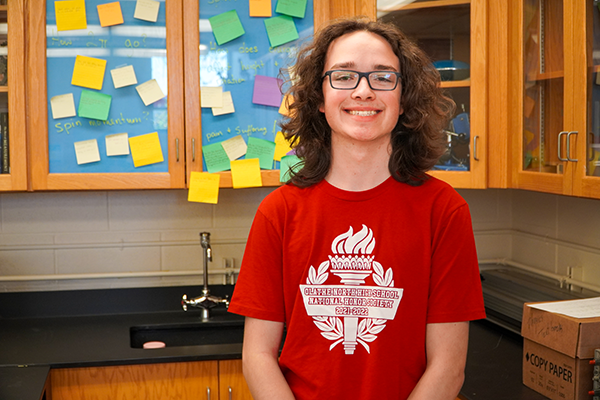 "For my senior capstone project, my goal was to design and create an efficient propeller by using 3D printing to prototype," Honors said. "The initial design was on the computer, then I was able to print and install a testing rig to calculate efficiency in my prototyping. If 3D printing was the most efficient way to prototype, it would prove to be very useful and more widely accessible."
He entered his capstone project into the Kansas City Science Engineering Fair. He was named one of four Grand Award winners, with the top three attending Olathe Public Schools.
"This capstone project has been really fun, and it goes along with what I want to do next," Honors said. "I will be attending Wichita State University in the fall and studying aerospace engineering. Being a part of the academy gave me the insight to learn what I really wanted to do when I graduated high school."
For Honors, that means literal rocket science. He hopes to graduate from college and then pursue further degrees or careers that would lead him to opportunities in rocket science.
"Having access to the Distinguished Scholars Academy has helped me in more ways than I can count," Honors said. "The work that I have put in has paid off and I am excited to see what comes next."
Honors' Grand Award win qualifies him to compete in the International Science and Engineering Fair in Atlanta, Georgia, on May 8-13, where over 80 countries will be represented.
#OPSMyFuture