Olathe Northwest High School Homepage
Return to Headlines
5-20-21 — Kohli Named U.S. Presidential Scholar
May 20, 2021 ~ A heart for helping others, a calling to make a difference in her community and a passion to share her love for science with the world are just a few of the many reasons 2021 Olathe North High School graduate Khushi Kohli has been named a 2021 U.S. Presidential Scholar.
The prestigious U.S. Presidential Scholar recognition is one of the highest achievements for a graduating senior. Kohli is part of the 57th class of U.S. Presidential Scholars, comprised of one man and woman from each state based on academic success, essays, school evaluations and transcripts, as well as evidence of community service, leadership, and demonstrated commitment to high ideals. The program recognizes 161 high school seniors annually who demonstrate exceptional talent and accomplishments in academics, the arts and Career and Technical Education (CTE) fields.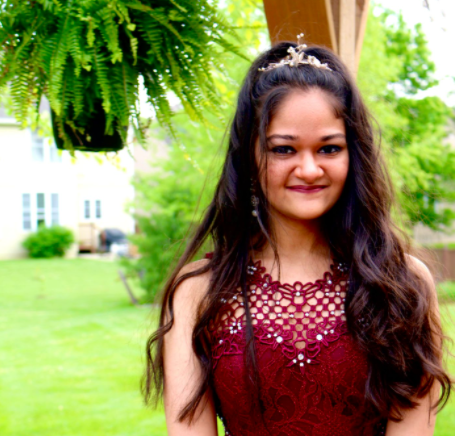 "Khushi continues to amaze us with all her recognitions," said Jason Herman, Olathe North principal. "She has worked hard academically, and it is paying off. What an honor for her and her family - we are so proud of her!"
As a student, Kohli participated in several activities including Science Olympiad, Science Bowl, Scholars Bowl, National French Honor Society and National Honor Society, among others. She also served as her senior class president but is most proud of the contribution she was able to make toward building up science programs for elementary students and young girls.
"Khushi is a co-founder and president of the Olathe North Science Bee, an annual event that she organizes with the help of the school district for elementary kids," said Shruti Kohli, Khushi's mother. "She's very involved and committed to science and wanted to bring that into the community at elementary level to give them some exposure to science at a young age. She is also a co-founder and regional coordinator for GAIM Club (Girls Adventure In Math), a group setting specifically for girls to start getting exposure to math as early as elementary school."
The opportunities provided by the Olathe School District have assisted in developing Kohli's passion for science and for helping others. For Kohli, her recognition was made possible in large part because of the support of the Olathe North community.
"The staff at Olathe North are just amazing people who shaped up Khushi through grades nine to 12," Kohli said. "She would not be where she is if it was not for the Olathe North faculty."
Looking toward the future, Kohli intends to continue giving back to her community through her passion for science at Harvard University where she plans to take a combination of pre-medical courses, biology and humanities, with the goal of pursuing medical school and the field of oncology.
The 57th class of U.S. Presidential Scholars class will be recognized this summer for their outstanding achievements.