Olathe Northwest High School Homepage
Return to Headlines
9-17-20 — Alumni Association Changes Plans for Wall of Honor Event
Sept. 17, 2020 ~ The Olathe Public Schools Alumni Association Wall of Honor banquet will not be held this fall due to the COVID-19 pandemic. The four alums selected for the 2020 Wall of Honor and one Distinguished Person of Honor selected for recognition will be honored in the future.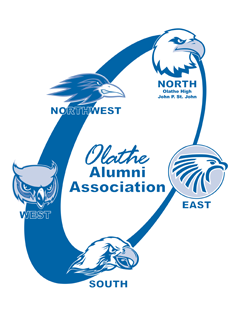 "Although this year's event had to be canceled out of respect for the honorees and concern for everyone's health, we are excited to announce the names of our next Wall of Honor inductees," said Jill Erickson, co-chair of the Wall of Honor event. "We hope to recognize these five outstanding individuals next fall."
Ralph Bray, a 1961 graduate of Olathe High School, served in the Army both as an Honor Guard in the White House during the Kennedy presidency and as a captain in the Vietnam War.
Kiel Johnson, a 1993 graduate of Olathe South High School, is an artist who has shown his creative projects in galleries and museums across the United States.
Ray Motes, a 1960 graduate of Olathe High School, set multiple track records as a professional race car driver in the National Hot Rod Association.
Brandi Wright Leggett, a 1998 graduate of Olathe North High School, is a career educator who implements new programs to improve student performance and is currently an elementary school principal in Olathe.
Distinguished Person of Honor Alison Banikowski began working in the Olathe School District as a teacher in 1983 and retired as deputy superintendent in 2017.
The annual Wall of Honor banquet recognizes outstanding alumni and district supporters while raising awareness for the Olathe Public Schools Alumni Association Scholarship that will be open to seniors from all five Olathe high schools once it reaches an endowed level. Anyone interested in supporting the scholarship fund or donating in honor of one of the Wall of Honor recipients is encouraged to contribute online. Visit the Olathe Public Schools Foundation website and select the designation option Olathe Alumni Association Scholarship.
The association also welcomes nominations for future Wall of Honor events. Learn more and download the nomination forms.