Return to Headlines
5-20-19 — Mid-May 2019 Awards
May 20, 2019
Olathe North Student Places Second at International Competition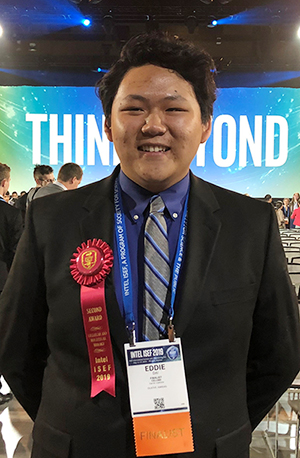 Eddie Dai, Olathe North High School junior, earned second place in the life sciences, cellular and molecular biology category at the Intel International Science and Engineering Fair (ISEF) held in Phoenix, Arizona. Dai will receive $1,500 and an asteroid will be named for him.
"Congratulations to Eddie, earning second place in the world is an amazing achievement," Olathe North Principal Jason Herman said. "He represented Olathe North and the Olathe community extremely well."
(Photo of Eddie Dai at the international competition)
Olathe Student to Compete at National Competition
Laura Flucke, senior at Olathe North High School, was chosen as the 2019 Kansas Stockholm Junior Water Prize winner and will attend the national competition at The Ohio State University in Columbus, Ohio, June 13-16, 2019. The Stockholm Junior Water Prize is a prestigious youth award for a water-related science project. Students address current and future water challenges. The Kansas Water Environment Association sponsored the state event.
"We are so proud of Laura and her representation of our school and community," Olathe North Principal Jason Herman said. "We wish her the best of luck at nationals."
Olathe Counselor Earns State Awards
Jennifer Cullen, counselor at Regency Place Elementary, was selected as the Kansas School Counselor Association (KSCA) Promise Award winner. This award recognizes an emerging school counselor demonstrating outstanding practice during their first five years of service.
"Jen plays a huge role in our Regency Place community," Regency Place Principal Greg Oborny said. "She is the ultimate connector or glue that keeps the many links of Regency Place together and she is of exceptional quality."
Olathe North Students Named KC Scholars
Seven Olathe North High School students were named KC Scholars for University of Missouri-Kansas City (UMKC) and University of Missouri-Columbia (MU). This program annually awards 250 traditional students scholarships for up to $10,000 a year, for up to five years.
UMKC scholarship winners are David Martinez, Karen Moussa and Biruktawit Yami.
MU scholarship winners are Nathan Hurst, Analiyah Keomany, Amandeep Nagra, Sophia Olvera, Emma Reaser and Aaliyah Welton.
Olathe Principal Named to Wall of Honor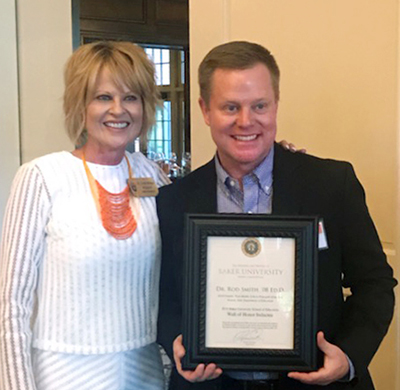 Frontier Trail Middle School Principal Rod Smith was named to the Baker University Education Wall of Honor. The Baker University School of Education recognizes alumni who have excelled in the education profession and have made a difference in the lives of students through their work as teachers, administrators, coaches or school activity sponsors.
"It was a highlight in my career to be added to Baker's Wall of Honor," Smith said. "I've always believed awards never reflect one person, but anyone who has helped that person achieve success. I appreciate the support and encouragement I received from Associate Professor Dr. Harold Frye while completing my dissertation. Baker University helped me develop new leadership skills and gave me opportunities to collaborate with great educators in Cohort 1."
(Photo of Rod Smith at the Wall of Honor event)