Return to Headlines
5-6-19 — Early May 2019 Awards
May 6, 2019
Olathe Coach Named Kansas Middle School Coach of the Year
Chisholm Trail Middle School math teacher and boys basketball coach Zach Reed was named the Kansas Middle School Coach of the Year by the Kansas Coaches Association.
"To watch Coach Reed's impact is amazing," Chisholm Trail Principal Michael Wolgast said. "He is a student's mentor, role model and their adult guide. We are proud of Coach Reed's recognition and proud of his effect on students and athletes at Chisholm Trail."
Olathe North Teacher Recognized with Award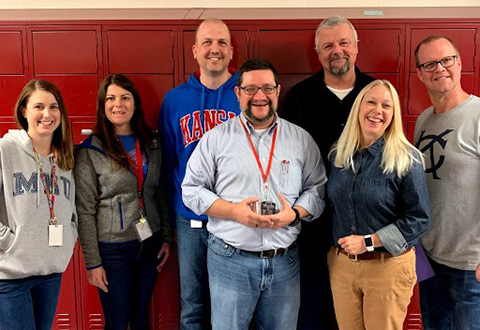 Olathe North High School math teacher Terry Link was selected as a Jedel Excellence in Mathematics Education award winner. Link is one of 16 educators in the Kansas City metro area to receive the honor.
"Terry is so deserving of this award," Olathe North Principal Jason Herman said. "He is passionate about his students, his work and Olathe North High School. The best part about him winning the award was that it was presented to him in front of his family and students. This was a memorable moment."
(Photo of Terry Link and his colleagues)
Olathe SkillsUSA Students Qualify for Nationals
Eleven students from the Olathe Advanced Technical Center (OATC) have earned the right to compete in the SkillsUSA national conference June 24-28 in Louisville, Kentucky, by placing first in state competitions.
Nearly 43 students from the OATC competed against students from across Kansas in the SkillsUSA events.
Adiedra Cullors, Olathe North High School; Jaxon Harris, Olathe South High School; and TJ Kinkade, Olathe Northwest High School placed first in community service team.
Caleb Frazier, Olathe Northwest; Luke Robinson, Olathe South; and Damian Tolbert, Olathe South placed first in chapter display team.
Bryan Ibarra-Ortiz, Olathe South placed first in job skill demonstration.
Dakota Broers, Olathe South; Will Eagan, Olathe East High School; Gauge Kellogg, Olathe West High School; and Joshua Musick, Olathe East placed first in teamworks.
Fairview Elementary Receives State Gold Honor
Fairview Elementary was selected to receive the Kansas Association of Health, Physical Education, Recreation and Dance (KAHPERD) Model School Gold Award for their continued excellence in physical education.
"We are so proud of Christina Murphy and the Fairview physical education program," Fairview Principal Andrew Dimmitt said. "Christina is truly dedicated to the health and well-being of the students of Fairview. She has worked to make PE a class that all students love and learn. Her focus on student relationships, mindfulness and health have had a positive impact on the culture of Fairview."
Olathe Student Named Finalist, Performs at Poetry Out Loud Nationals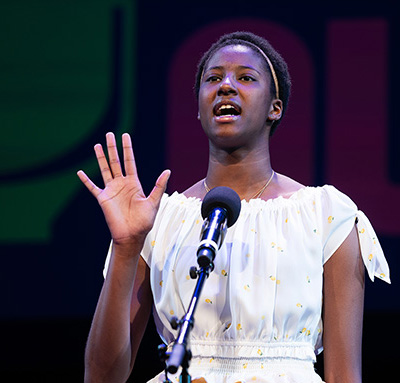 Khadija Ceesay, senior at Olathe South High School, was one of nine finalists in the National Endowment for the Arts and Poetry Foundation's Poetry Out Loud Finals. Ceesay performed May 1 at the Lisner Auditorium at George Washington University in Washington, DC.
"We are extremely proud of Khadija for representing Olathe South and the Olathe School District at the national level of the Poetry Out Loud competition," Olathe South Principal Clint Albers said. "She is an amazing young lady who has worked extremely hard at perfecting her craft and performing at the highest levels."
(Photo of Khadija Ceesey performing at the national competiton.)