Return to Headlines
1-15-19 — Mid-January 2019 Awards
Jan. 15, 2019
District Names Middle School Math Contest Winners
During December's districtwide Middle School Math Contest the California Trail Middle School team earned first place in both the sixth- and seventh-grade divisions. Sixth-grade team members Gracie Cowman, Aarush Dronavalli, Alexander Pannier and Carrie Wong were coached by Mary Roswurm. Seventh-grade team members David Burda, Tanmay Patil, Ricky Li and Anshika Kapoor were also coached by Mary Roswurm.
The Prairie Trail Middle School team won the eighth-grade division. Team members Grant Shanklin, Brodie Kaiser, Kyle Fleming and William Bergman were coached by David Shoemaker and Nathan Harkins.
Olathe Educator Wins $20,000 Grand Prize
Recently Olathe Public Schools Distinguished Scholars Academy facilitator Deirdre Zongker was named one of 10 grand prize winners of the Crayola Thank a Teacher Sweepstakes. As a grand prize winner, Zongker received a $1,000 cash prize, Olathe North High School received a year's worth of Crayola products, $9,000 for professional development and $10,000 for classroom makeovers.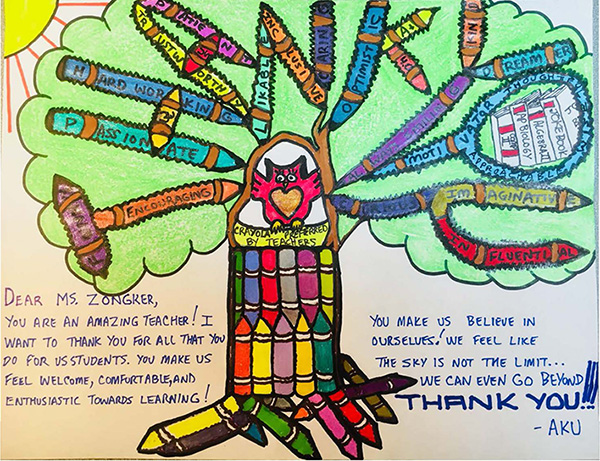 Akerth Jain, freshman at Olathe North, submitted Zongker for consideration.
"What has and will stay with me is the kind words Akerth wrote," Zongker said. "It reminds me that the work we do every day – even something minor, we may not think about – has lasting and profound effects on students that we may, or more often, may never know. That's incredibly powerful."
(Photo of Akerth Jain's nomination of Deirdre Zongker for the Thank a Teacher Sweepstakes.)
Olathe Students Thrive at Kansas Thespian Festival
Olathe North High School students thrived at the Kansas Thespian Festival, held in early January.
Emily Martin, senior, and Katelyn Gillette, junior, each earned Superior ratings and qualified for the National Thespian Festival, held in June. Martin for State Management and Gillette for Sound Design.
Martin, along with Katy Cronin, senior; Sophia Hillman, junior; and Hannah Guzman, junior, performed at the festival and were selected for the National Thespian Festival.
The Olathe North Thespian Troupe received the Gold Honor Troupe award which recognizes theater troupes that actively participate in theater outreach, productions and bringing theater to the community. This is the highest award a thespian troupe can receive at the state level.
Olathe Student Named to Disney Dreamers Academy
Akerth Jain, freshman at Olathe North High School, was selected among the 100 students nationwide to participate in the Disney Dreamers Academy.
The Disney Dreamers Academy will be held March 21-24, at Walt Disney World Resort. During the academy, students will attend career workshops and develop soft skills such as interviewing, networking and dressing for success.
"This is a great honor for Akerth," Jason Herman, Olathe North principal, said. "I am proud of him and how he represents his family and the Olathe North community."