Madison Place Elementary Homepage
Return to Headlines
5-17-22 — Yadav Named U.S. Presidential Scholar
May 17, 2022 ~ An insatiable thirst for knowledge, a passion for math and science, and a heart for helping others are just a few of the many reasons Olathe North High School senior Gauri Yadav has been named a 2022 U.S. Presidential Scholar.
The prestigious U.S. Presidential Scholar recognition is one of the highest achievements for a graduating senior. Gauri is part of the 58th class of U.S. Presidential Scholars, comprised of one man and woman from each state based on academic success, essays, school evaluations and transcripts, as well as evidence of community service, leadership, and demonstrated commitment to high ideals. The program recognizes 161 high school seniors annually who demonstrate exceptional talent and accomplishments in academics, the arts, and Career and Technical Education (CTE) fields.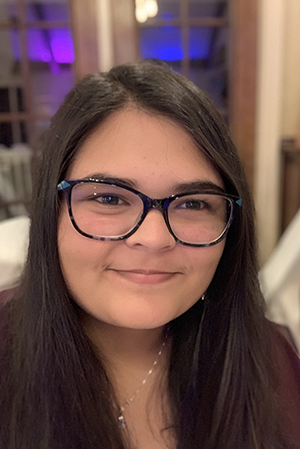 "A wide range of emotions overcame us as we learned that Gauri received this prestigious award," said Ashish Yadav, Gauri's father. "Like any parent, we were happy and proud of our daughter for all the hard work she put in and the recognition that she received. However, one emotion superseded these: inspiration. Normally, kids look up to their parents as role models and for inspiration. For my wife and I, it was the reverse. We look up to Gauri as our role model, source of strength, and determination. Gauri continues to prove to us that you can achieve your goals once you set your mind to them and work hard toward them."
Gauri demonstrated an early passion for math at Bentwood Elementary, where her teacher and principal encouraged her to participate in the MathWings competitions. This passion for math followed her to middle school where she participated in MathCounts competitions and started to explore her interests in science as well through Science Olympiad competitions.
At the high school level, Gauri has been involved in DECA, Link Crew, Scholars Bowl, Science Bowl, and National Honor Society. Earlier this year, she was selected as a finalist in the National Merit Scholarship Corporation and was also recognized as the top academic 1 percent of Kansas high school seniors by receiving the Kansas State Governor's scholars award.
"Gauri would like to thank each and every teacher, principal, and staff member that helped her through her journey," Yadav said. "Gauri has been fortunate to have a really good support system at home and school. Throughout her academic career, she was often praised by her teachers. Seeing her potential, her middle school teachers recommended she apply for the Distinguished Scholars Academy at Olathe North High School. Once enrolled in the science strand of the Distinguished Scholars Academy, she was exposed to topics that interested her and fed her curiosity and this is where her interest in the medical profession came about."
Looking toward the future, Gauri intends to continue pursuing her passion for science through a career in medicine. She plans to attend the University of Missouri-Kansas City and participate in the six-year B.A./M.D. program with the hope of becoming an endocrinologist.
The 58th class of U.S. Presidential Scholars will be recognized for their outstanding achievement this summer.