Return to Headlines
10-28-19 — Staff and Students Receive Honors
Oct. 28, 2019
Olathe East Gymnastics Team, Individuals Win State Championships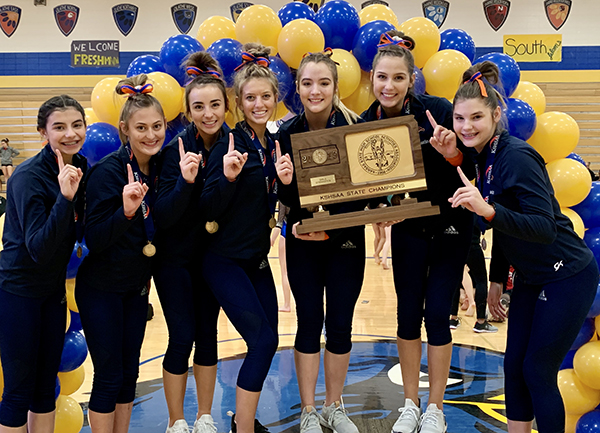 The Olathe East High School gymnastics team earned the 6A Kansas state title in gymnastics at the state meet held at Olathe South High School.
Kelsey Meyer, Olathe East senior, earned first place and won an individual state title in the balance beam.
Brooke Illum, Olathe Northwest High School senior, earned first place and won individual state titles in floor, vault and all-around.
(Photo of the Olathe East gymnastics team with their state trophy.)
Olathe Administrator Wins Distinguished Service Honor
Olathe Public Schools Executive Director of Communications and Community Relations Maggie Kolb was honored with the 2019 Distinguished Service award presented by the Kansas School Public Relations Association.
The Distinguished Service award is the highest honor given by KanSPRA and honorees remain committed to a creative, dedicated and professional approach to school communications.
The mission of KanSPRA is to create an atmosphere of public trust and understanding by leading, counseling and influencing attitudes and behaviors in support of Kansas public education.
Communications Division Earns Statewide Honors
At the 2019 Kansas School Public Relations Association conference, the Olathe Public Schools Communications Division received statewide recognitions from the Kansas Association of School Boards and KanSPRA.
Olathe Public Schools Communications and Media Manager Cody Kennedy received a Certificate of Excellence for the 2017-18 Olathe Public Schools annual report and a Certificate of Merit for the Olathe Public Schools social media platforms.
Tony Rangel, video production specialist, earned a Certificate of Merit for "Azalia's Story," a video which highlights a former student giving back to the district by way of a scholarship.
The Communications Division also received Certificates of Merit for the 2019-20 parent guide and the winter 2018 eddition of School News, the district's quarterly informational magazine.