Return to Headlines
8-20-18 — Mid-August 2018 Awards
Aug. 20, 2018
Bentwood Elementary Teacher Named to State Honor
Nancy Smith, Bentwood Elementary School first-grade teacher, has been named the 2019 Janet Sims Memorial Kansas Agriculture Teacher of the Year by the Kansas Foundation for Agriculture in the Classroom (KFAC). This award recognizes an outstanding K-12 teacher in a non-vocational agriculture program for their innovation in agriculture literacy.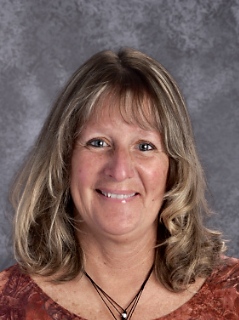 "Being named as the 2019 Kansas Agriculture Teacher of the Year is a great honor and it motivates me to bring more agricultural concepts into my first grade classroom," Smith said. "As a recipient of this award, it will allow me to attend trainings to learn about even more hands-on and engaging agricultural activities. I love the level of excitement that is present in my room as we hatch chickens, build chicken playground equipment, and plant corn. What a great way to experience the world around us."
Smith is elligible for the 2019 National Agriculture Teacher of the Year Award and will represent Kansas at the 2019 National Agriculture in the Classroom Conference in Little Rock, Arkansas.
(Photo of Nancy Smith at right)
Students Receive Seal of Biliteracy
The Olathe School District has recommended 34 students to receive the Seal of Biliteracy based on their academic achievement in English and a foreign language.
The recommendation was submitted to the Kansas State Department of Education (KSDE). Student recipients will receive an updated transcript with the seal designation, congratulatory letter from the district and a certificate from the state of Kansas. Biliteracy refers to having a functional level of proficiency in two or more languages.
The seal is a statement of accomplishment that recognizes a student's readiness for career and college and for engagement as a global citizen.
"As a system, we are extremely proud of these students who have worked extremely hard and have clearly been focused on their future success," Brent Yeager, assistant superintendent for learning services said. "These students serve as role models for all our students."