Return to Headlines
4-9-18 — Northwest Softball Goes Blue for Beau
April 9, 2018 ~ Extra-curricular activities and athletics provide an outlet for many students across the Olathe School District. These activities can also provide an outlet for staff members as well, and sometimes, the same activities can help provide awareness for special causes.
On May 3, the Olathe Northwest High School softball team will play a double-header against Olathe East High School at the College Boulevard Activity Complex. Annually, the Ravens wear special uniforms to raise funds and awareness for a cause and as long as Mark Mahoney is head coach, they'll wear powder blue for Beau.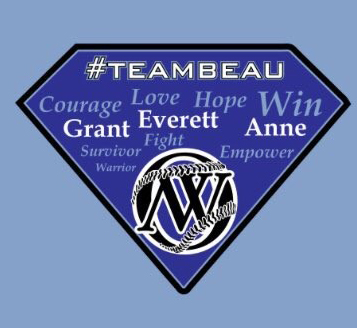 Beau is the 1-year-old son of assistant coach Anne LeVar-Hash and in April 2017, he was diagnosed with the rare genetic mutation GNAO1. Roughly 50 people around the world are impacted by this disorder which causes seizures and various developmental delays.
"We're having a powder blue night and designed a shirt in Beau's honor," said Coach Mahoney. "The shirt's design is a Superman shield with his family member names and words that describe this young man."
Members of the Raven softball team surprised LeVar-Hash with the shirts and made blue bracelets inscribed with "#TeamBeau" and "Family." Shirts were made available early in 2018 and fans are encouraged to wear their shirt or powder blue during the May 3 game. As added inspiration, Beau is scheduled to throw out the first pitch.
The proceeds of the shirt sales will go to the Bow Foundation which supports GNAO1 families, research and awareness. Additionally, at the game, there will be an opportunity for donations to the foundation.
"Not only has Beau been a fighter but the family has been so positive," Mahoney said. "We want all the proceeds to go toward research. We'll be handing out bracelets and we're excited to see how much we can raise to help, support and love Beau and his family."