Return to Headlines
4-3-18 — Early April 2018 Awards
April 3, 2018
Students Named Shooting Stars Scholarship Winners
At the 21st Annual Shooting Stars Gala, the Arts Council of Johnson County (ACJC) awarded scholarships to Olathe seniors while recognizing the numerous finalists nominated for the 2018 Shooting Stars Awards. The Shooting Starts program honors Johnson County high school students for achievement in nine categories of literary, performing and visual arts. Nine $1,400 first-place scholarships and nine $700 second-place scholarships were awarded to recognize excellence in each category of art.
In the strings category, Kenton Huff, Olathe Northwest High School, received first place. In the strings category, Shulammite Lim, Olathe North High School, received second place.
Students Recognized by Charity Campaign
Two Olathe Northwest High School students raised $7,600 during the second annual Leukemia & Lymphoma Society's Student of the Year campaign. Juniors Kayleigh Winder and Libby Fuzzell raised the majority of the funds through social media and a team website.
"I greatly appreciate the time and effort that these two Ravens put forth in serving others," Olathe Northwest Principal Chris Zuck said. "They are a testament to the caring hearts of our students."
Olathe Youth Named Student Trainer of the Year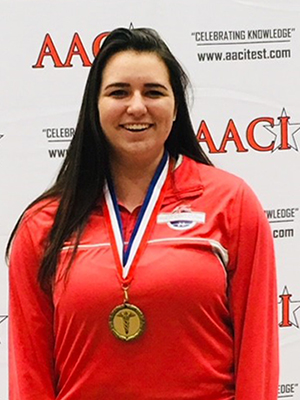 Georgia Mitchell, Olathe North High School senior, was recently named American Academic Competition Institute's (AACI) Student Trainer of the Year. The competition criteria included an essay on how sports medicine has impacted her life, scientific research review and analysis, written and oral tests and a presentation.
"Georgia is driven, organized, not afraid to ask a question or step up and lead," Sports Medicine and Exercise Science Academy Facilitator Sarah Hanson said. "She has learned to use everyone around her as resources and she gains knowledge from their experiences. She is goal driven and is holding the bar high on her expectations for herself."
The event was held at Cal State University Northridge. In addition to Mitchell's individual award, out of 47 teams, the Sports Medicine and Exercise Science Academy team placed fourth overall.
(Photo of Georgia Mitchell)