Return to Headlines
3-22-18 — Late March 2018 Awards
March 22, 2018
Olathe Northwest Wins State Scholars Bowl
The Olathe Northwest High School Scholars Bowl team recently earned the Kansas 6A state championship after defeating Wichita East High School in the championship round. This is Olathe Northwest's first state Scholars Bowl championship.
"The team practiced each week from August through February and their commitment and dedication paid off," Olathe Northwest Coach Melissa Lunney said. "I couldn't be more proud to be associated with this fantastic group of kids."
The Olathe Northwest Scholars Bowl team consists of 20 students but only six students can compete in a tournament.
Olathe North Eaglettes Win National Championship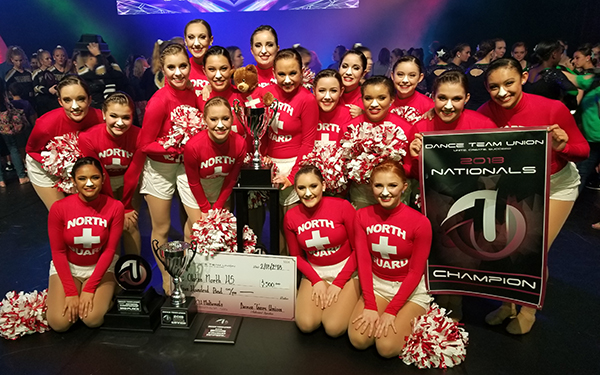 In February, the Olathe North High School Eaglettes attended the Dance Team Union Nationals in Orlando, Florida and left national champions in the Large Pom Division. In 2017, the Eaglettes earned their first national championship in the Large Pom Division and are now back-to-back national champions. In addition, the team received the Crowd Appeal award for their pom routine.
"We have so much gratitude for the people who have shaped our program and gotten us to where we are," said Olathe North dance coach Sarah Heptig. "It is all of our alumni who have helped pave the way for us to get here. It is our coaching staff who have given their heart and soul to the team. It is our families who have loved us through it all and it is the current team who made the dream become a reality."
Olathe Northwest Dance Team Wins National Championship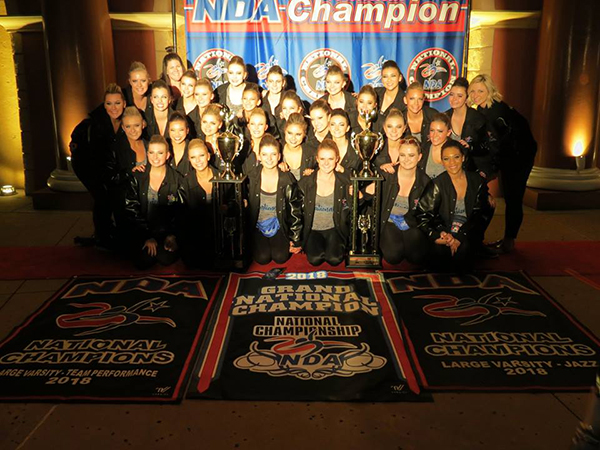 The Olathe Northwest Raven Dance Team attended the National Dance Alliance (NDA) National Competition in Orlando, Florida, where they were earned a national championship in Large Varsity Team Performance and Large Varsity Jazz and were crowned Grand National Champions.
"I am amazed at their ability to rise to the challenge year after year," Olathe Northwest dance team coach Shannon Summers said. "They continue to set the bar higher each season. They are true champions in every sense of the word."
Olathe Principal Recognized as Community Champion
Ravenwood Elementary Principal Christi Gottschalk was named a Community Champion through the Down Syndrome Guild of Kansas City. Each year the guild selects 21 individuals as community champions for those who excel in helping those with Down syndrome achieve their full potential. Gottschalk is the driving force behind the Firecrackers special needs cheer team.
"I love volunteering my time and talents with the special needs cheer team at KC Cheer," Gottschalk said. "My heart is full when I see athletes with huge smiles performing next to their cheer mentors and then getting a standing ovation for their performance."