Return to Headlines
1-25-18 — Meadow Lane Student Government Makes a Difference
Jan. 25, 2018 ~ Often what makes school communities distinct and unique is the students and their passion for their school and surrounding community. At Meadow Lane Elementary, the student government rallies behind causes and activities like very few.
For the 2017 Pennies for Shoes campaign, students encouraged their families and one another to donate spare change to benefit Olathe-community charities. The Meadow Lane community raised over $1,800 which was nearly $600 more than the year before.
"One of our focus areas as a student government is to be as service-oriented as possible," Meadow Lane Principal Brian Lowe said. "Our student government is student led and the ideas and implementation of those ideas come from them with guidance from our staff sponsors."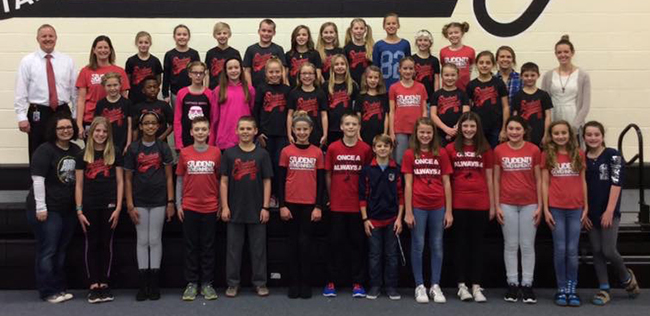 To help student leadership understand the responsibility of being on a governing board, the student government organized a trip to Olathe City Hall to meet with Mayor Michael Copeland and learn about service. Students were able to get a grasp on civic responsibilities and how simple acts affect communities.
"We truly do love seeing the students grow in their leadership skills while on student government," said Meadow Lane student government staff sponsor Becky Keely. "We see quiet students get up and talk to an entire class. We have such a great group of students lead our school each year!"
Of course, successful student leadership is often encouraged by family at home, said Lowe. Students engage their families in causes and fundraisers and the family rallies around their children.
"I am so very proud of our students' efforts to raise additional funds and resources for those in need," said Lowe. "We are fortunate to work hand-and-hand with our parents who support our initiatives and join the cause."