Return to Headlines
1-22-18 — Mid-January 2018 Awards
Jan. 22, 2018
Olathe Students Thrive at Kansas Thespian Festival
Olathe high school students who participate in theater had an amazing weekend at the Kansas Thespian Festival, held Jan. 6 in Wichita, Kansas.
Olathe South High School's Troupe 5006 was one of eight schools in the nation that were chosen to perform on the main stage of the International Thespian Festival. Sophomore Anna Hastings was elected as a State Thespian Officer for Kansas Thespians.
Olathe North High School will be bringing a show to the International Festival over the summer which is a first for the school. Junior Emily Martin was also elected as a State Thespian Officer. Olathe North also had nine students participate in individual events that earned superior ratings and 11 students who received excellent ratings. The Golden Honor Troupe award was given to Olathe North. This award recognizes theater troupes that actively participate in theater outreach, productions and bringing theater to the community. This is the highest award a thespian troupe can receive at the state level.
Olathe Northwest High School, Olathe East High School and Olathe West High School each had students who received superior ratings in individual events.
District Recognized for Excellence in Budget Presentation
The Association of School Business Officials International (ASBO) recognized the Olathe School District for excellence in budget presentation with the Meritorious Budget Award (MBA) for the 2017-18 budget year.
"It's exciting to once again win this award from ASBO International," John Hutchison, chief financial and operations officer, said. "The MBA provides our public with a reputable, outside evaluation of our budget process."
Olathe Student Wins $1,000 in Kindness Challenge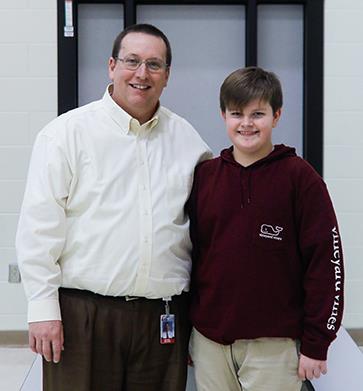 Chisholm Trail Middle School seventh-grader Andrew Peet won $1,000 through Lifestyle Publication's Elevate Kindness Challenge. The competition promoted kindness, thoughtfulness and positivity in area middle schools.
Peet presented his idea of a "Buddy Table" in the lunchroom during Chisholm Trail's Month of Kindness in November.
"Students came up with ideas which they implemented in a variety of ways," Chisholm Trail Principal Mike Wolgast said. "Andrew had a great idea and completely ran with it. We are very proud of him."
(Photo of Andrew Peet and Principal Mike Wolgast)
Olathe Teacher Achieves National Board Certification
Rachel Kufeldt, Cedar Creek Elementary third-grade teacher, recently achieved first-time certification from the National Board for Professional Teaching Standards. This honor is the highest professional credential teachers can earn.
National board certification is recognized nationwide as a model for identifying accomplished teaching practice.
"We are so proud of Mrs. Kufeldt and her efforts to attain National Board Certification," Cedar Creek Principal Tim Reves said. "It was exciting to watch her work through the process and grow as an educator. She has worked very hard to reach this goal and both she and her students benefit greatly from her efforts."
Olathe Northwest Volleyball Player Named Kansas Player of the Year
The Gatorade Company announced Olathe Northwest High School senior Taylor Kuper as its 2017-18 Gatorade Kansas Volleyball Player of the Year.
"We are so excited for Taylor's deserved recognition as Kansas Gatorade Player of the Year," Olathe Northwest Principal Chris Zuck said. "This designation is a testament to her incredible ability and to her lifetime investment. It's always fun to watch Taylor play because her passion and competitive nature shine through."
The Gatorade Player of the Year program annually recognizes one winner in the District of Columbia and each of the 50 states that sanction high school football, girls volleyball, boys and girls cross country, basketball, soccer, baseball, softball and boys and girls track and field, and awards one National Player of the Year in each sport.
Frontier Trail Middle School Principal Named KMEA Honor Administrator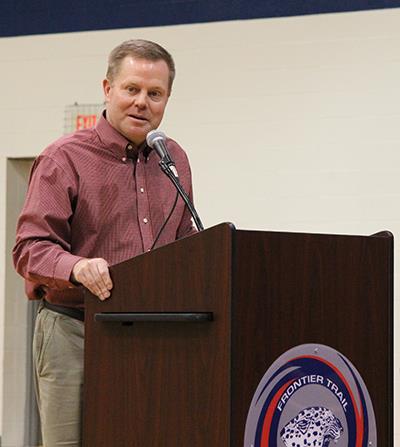 Frontier Trail Middle School Principal Rod Smith was named Honor Administrator by the Kansas Music Educators Association (KMEA). This annual award recognized administrators who have demonstrated continuing leadership in developing, improving and supporting music education within a wider commitment to arts education, music, theater, visual arts and dance.
"KMEA receives many nominations each year for the Honor Administrator award and it was very exciting to receive word that Dr. Rod Smith had been selected as the 2018 recipient," KMEA Vice President and Olathe Public Schools Fine Arts Coordinator Martha Gabel said. "Dr. Smith is the type of principal that ALL music teachers hope to work with. His support for music and the arts is evident in his words, but more importantly in his actions and he is certainly deserving of this great recognition!"
(Photo of Principal Rod Smith)